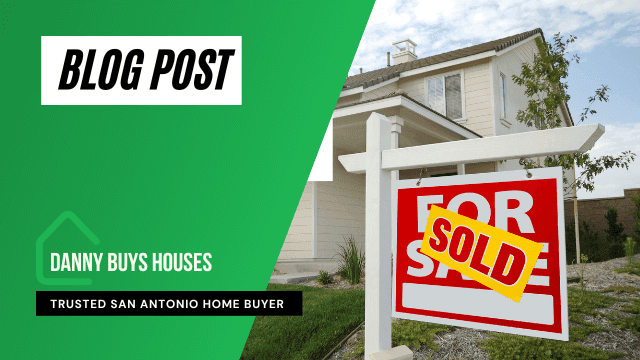 5 Options for Selling a House Fast in San Antonio
By Danny Johnson | Published 12/27/2017, 2:07:07 AM
🗂 Table of Contents
If you are thinking "I need to sell my home fast!", you are not alone. There are many situations which can put homeowners in a position to need to sell their home quickly. If you have found yourself in this type of situation, you are not backed into a corner with no options. Actually, you have several options for selling your home. Some processes are faster than others and some have specific benefits as well as disadvantages. If you are saying to yourself, "I need to sell my San Antonio house fast" here are the top five options you have available to you.
Option 1: List Your House with a Realtor
You always have the option of calling a realtor and setting it up so they list your house for you. They will actually do much of the work for selling your San Antonio home; but it will cost you in the long run. This is because you will have to pay the realtor a commission for selling your house for you.
Typically, sellers pay real estate agents 6% to sell their home. To use an example, if you sell your house for $200,000 you will need to pay the agents involved $12,000 as their commission.
You'll have a couple of options when listing with an agent. One, you can increase the overall price of your house, as long as you don't go over its appraised value. Asking top of the market for your house will not allow you sell very fast as other, lower-priced homes will sell before yours does. Or secondly, you can reduce the amount you get in the deal to try to sell it fast. Putting your house on the market at less than what other houses in the area are for sale for will help you to get a faster sale.
The realtor is going to take their portion out first. They will list and sell your house for you, but not for free. Another down side of listing with a realtor is if you need to sell a house quickly, you may be out of luck. Your house can be listed with a realtor for months before it sells.
Option 2: Put an ad for Your House on Craigslist
If you have an account on Craigslist, you can list your home for sale online. It's easy to set up an account if you don't have one. This is good, and bad. It's good for you because it only takes you a few minutes to be online and listing your house. This is bad, because anybody can set up an account and you don't know who you might end up dealing with. Again, selling on Craigslist can be time consuming and you will have to set up your own appointments for showing the house. It can end up being complicated if you are not sure what you are doing. Please be careful if you go this route as there are people posing as interested buyers just to see what you have in your house.
Option 3: Put an ad on Zillow.com
Zillow.com is a popular real estate site. All you need is to set up a free account and you can list your home. You can post it on the site as "for sale by owner" or "sale by agent." This helps avoid any confusion but gets your San Antonio home out where potential buyers can see it. Your home will be entered into a data base and buyers who are interested in specifics are sent emails when new listings are available. If your house matches their preferences, they receive an email which includes your listing. This is an okay option but you are still doing all the work, listing the house, making appointments, taking phone calls and showing the house.
Option 4: Get a "For Sale By Owner" Sign and Run a Newspaper Ad
Today, many homeowners like to cut out the middle man and sell their house themselves. You can put a sign in the front yard and run an ad in local newspapers. This is risky for a couple of reasons. First of all, local newspapers are not as popular as they used to be and you take a chance that your home's listing won't even be seen by potential buyers.
Putting a "For Sale by Owner" sign out front is also risky as someone has to drive directly by your house to see that it is for sale. The vast majority of available buyers will not know your house is even for sale.
Do be aware that there are some costs associated with selling your house yourself and there are many points to consider. For instance, you will have to pay for any ads you run about the property, you'll need to get your home staged, make repairs and be available to show the home to potential buyers on a regular basis for as long as it takes to sell your house.
Option 5: Sell Your House to a Cash Home Buyer
In many instances, selling your house to a cash home buyer is the best option. An investor offers you a cash offer for your home which means you don't have to wait for long for the closing, wait for lenders to approve a buyer or deal with them denying the loan at the last minute. You also avoid tons of phone calls, setting up appointments and allowing total strangers access to your house on a regular basis. If you need to sell a home quickly a cash home buyer is an excellent option since you don't have to stage the house or make repairs. Closing usually occurs within just a few days and you have cash in hand.
Conclusion
Once you take some time to consider each of these options, you can find the one which is going to work best for your situation. Your options are not limited, but there are better options if you are trying to sell your property fast. If you choose to list your house, you'll need to do quite a bit of paperwork as well as make repairs to your home. If you go through a real estate agent, you will have to pay a commission and likely have to wait months for the closing to take place. If you don't go through an agent and decide to sell the house yourself, you will have to make sure you cover every base and there are no loopholes to trip you up.
So if you are saying to yourself, "I need to sell my home asap!" take a few minutes to look through the above mentioned options and find the one you feel is easiest and will work best for your particular situation. For most, selling to a cash house buying company is the fastest option since it saves a lot of the hassles and you have the money in no time.
We can help. We buy houses in San Antonio.