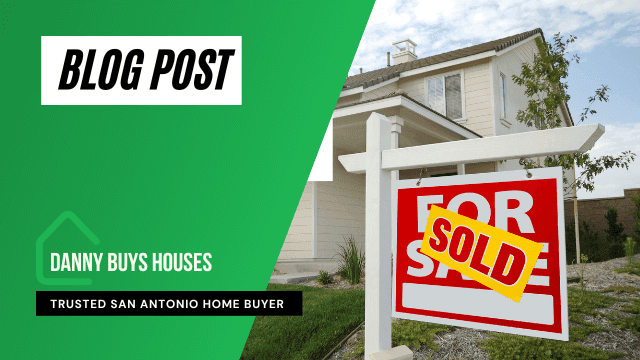 Why do people sell their house to Danny Buys Houses?
By Danny Johnson | Published 3/2/2017, 8:39:23 AM
🗂 Table of Contents
This was a wonderful and simple process. Danny Buys Houses were very helpful and accommodating! They are organized like a large company but provide the warmth of a family business. It was the easiest part of our whole move. - Lisa Shears, San Antonio, TX
When it comes to selling a home in San Antonio, an overwhelming amount of time, money, and energy is spent attracting the ideal buyer. From fixing up the home's innumerable flaws to hosting awkward open houses, homeowners are forced to court the potential buyer to sell within a reasonable time frame. For many San Antonio sellers, waiting for the perfect buyer seems like an unavoidable pitfall of selling; but it doesn't have to be. Simplify the selling process and avoid courting potential buyers by contacting the reputable we buy houses company, Danny Buys Houses. With the aid of this highly rated company, sellers can spend less time worrying about acquiring a buyer and more time finding their next dream home. Instead of selling to other cash house buyers in the area, people sell their house to Danny Buys Houses for the ability to avoid making repairs, convenience of sale, and unparalleled professionalism. Danny and his team have taken more than 12 years of experience and created a surefire and straightforward selling process that shortens the sale. Unlike many companies that buy houses, Danny Buys Houses has a proven track record with hundreds of successful sales and an A+ rating with the Better Business Bureau. Dozens of testimonials from sellers in San Antonio can confirm: Danny Buys Houses is the most viable and reputable we buy houses company in the area for home sellers.
Avoid Costly Repairs
Danny bought my house quick and at a fair price. I would definitely recommend him to anybody! - Marty Roy, San Antonio, TX
Many sellers in San Antonio can feel crushed by the financial burden of fixing up their home before selling. Structural repairs can require home improvement loans, and minor fixes can alienate some buyers. With serious companies that buy houses, sellers can avoid those costly repairs altogether. While some I buy houses scammers will insist on making unnecessary repairs before purchase, Danny Buys Houses is interested in buying a house as-is. Homeowners don't need to worry about making those extensive repairs before selling. Danny's highly experienced buying team has a 100% close rate and is eager to purchase your property, flaws and all.
It was a simple and quick transaction. Danny was very pleasant to deal with. We are quite happy to sell it to Danny and let him deal with the headaches of fixing and selling it. - Kuhn, San Antonio, TX
Convenience of Sale
Danny was great in helping me close this chapter of my life. He was fast and efficient and closing was done in less than a week. I would highly recommend his service to anyone. - Mary Morris, San Antonio, TX
A major reason why many local homeowners trust Danny Buys Houses is due to their ability to ensure a quick, convenient sale that benefits all parties involved. In general, the selling process is stressful and strewn with complex forms, clauses, and conditions. However, with Danny's expertise and years of experience, homeowners can walk away from the deal without any headaches. The process is simple: Danny will set an appointment and visit the property for sale after homeowners fill out a quick, no obligations form online. After a painless assessment of the home, Danny, or one of his expert home buyers, will offer a no-obligation cash offer at fair market value. There are no hassles, no strings, and no obligations. Danny and his team offer convenient sales by agreeing to close when it works best for the sellers. Whether it means quickly signing an agreement within five days or waiting three months for the sellers to procure a new move-in ready home. With a quick and clean purchase, there's no wonder why Danny Buys Houses is the premiere cash house buyer in San Antonio.
I was very satisfied with the way Danny handled this transaction and how quickly we were able to sell and close. I would highly recommend Danny to other sellers. - Ernesto Valdez Jr., San Antonio, TX
Unparalleled Professionalism
Thank you so much for making this as painless with paper work as possible. Your professionalism is highly commended in this deal. Thank you, Danny. - Erin Ryan, San Antonio, TX
Unfortunately, many people who pay cash for houses lack professionalism when submitting offers and assessing homes. They might resemble and car salesman and repeatedly push the seller into agreeing on low-ball offers; some cash home buyers can be rude or just not mesh with a seller's personality. Homeowners don't need worry about a lack of professionalism with Danny Buys Houses. Danny and his associates are proud to offer a discreet and friendly service to San Antonio sellers. Their supreme knowledge of the area and determination to make a sale as stress-free as possible is unparalleled. Danny Buys Houses also provides excellent customer service for sellers submitting inquiries. From speedy replies to friendly home visits, many homeowners that meet Danny feel like a true friendship has formed by the closing date. Danny comes highly recommended by dozens of San Antonio residents that have felt assured and welcomed by his expertise. In a real estate housing market with ample companies that buy houses, Danny and his team of experts are a truly refreshing change to the average customer experience. For more information about the exemplary service Danny offers, obtain an estimate on your unwanted home, or set an appointment to meet in-person, contact a Danny Buys Houses representative today.
I appreciated how Danny didn't put any pressure on getting the sale. Danny helped with the process and allowed me the time I needed. He was very flexible and made himself available to assist with any questions I had. I would recommend Danny to anyone that wanted a knowledgeable buyer. He was excellent to work with. Thanks, Danny. - Linda Hommerbocker, San Antonio, TX
Do You Need to Sell Your House? Try Danny Buys Houses!
At Danny Buys Houses, we will work with you to make selling your house as simple and stress free as possible! All you have to do is call us at (210) 881-7707! We can have your house closed on in as soon as 48 hours, and will get cash in your pocket. We look forward to helping you!