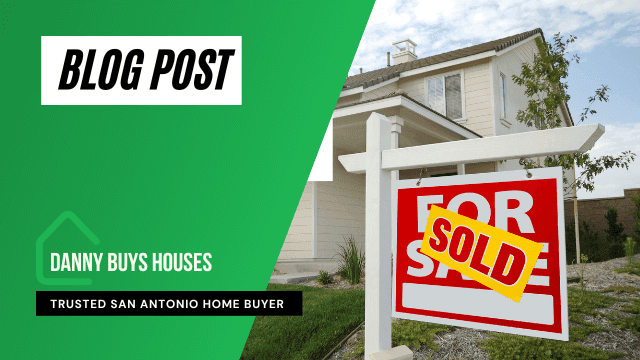 Divorcing? Considering Selling Your San Antonio House?
By Danny Johnson
Divorcing is painful. Selling your San Antonio house does not have to be. Here is how.
🗂 Table of Contents
When it comes to selling a house during divorce these options are something that you want to review carefully as chances are you want to do this quickly. When divorcing, you have lots of options if you want to sell your house fast. The sale of house during divorce can be frustrating because of all the other issues that are going on in your personal life. The one thing that you also want to keep in mind is that selling assets before divorce could land you into some legal difficulties. If it is agreed upon by both you and your spouse that you have no choice but to sell the family home, you can start planning how to doso so that the best possible outcome is achieved.
Selling a House Fast During Divorce
Naturally you want to sell your house fast and chances are you have a lot of emotional ties to it. This could lead you to over valuing your family home. In your opinion it may be worth a lot more than what the market value is going to indicate. You will need to think realistically about this and be prepared to accept the sale value of your home rather than what you personally think it is worth. If you put it on the market at an unrealistic price the chances of it selling fast are very poor. Many think that when selling a house during divorce, putting a high price on it to begin with is the best way, as they can always come down on the price. What they don't realize is that the first 30 days of the house being on the market is when it's going to receive the most attention. Waiting to lower the price after this period of time is not the best route to take.
Importance of Curb Appeal When Selling the House
You want your house to show at its best and you can begin by sprucing up its curb appeal. As soon as prospective buyers come to your house to view it it's the outside that they see and you want this to be appealing. It may mean no more than cleaning up any debris that is around the home, and weeding the gardens.
Responsibilities When Selling Your Home During Divorce
You want to be sure that when you are managing your responsibilities that you choose a Realtor that is going to put all of their expertise, knowledge, and resources into selling your home quickly. You can share your circumstances with this professional as they will keep the details confidential. By doing so the Realtor understands the circumstances and will work diligently on trying to sell the home as quickly as possible. Alternatively, you can sell your house without any hassle at all to a local house buying company. They will buy it as-is so that you don't have to worry about curb appeal or any other repairs. If you are going to sell yourself 'For Sale By Owner' or through an agent, when you will want to be sure that the interior of the home presents well just as the outside does. When in a situation where you are selling your family home because of a divorce you have to do what you can to settle things quickly. If you are going that route, rely on your real estate agent's suggestions for any repairs or updates that they feel should be done in order to sell faster. Sometimes it's just a matter of a few minor repairs and some fresh paint that is needed.
Sticking with Your Decision to Sell
With so much else going on in your life at this moment you may be thinking about attempting to refinance house after divorce instead of selling it. Refinancing your mortgage is certainly an option but it can be difficult. The financial situation of both you and your spouse are most likely going to change and you now will have to qualify for new financing. You may also be contemplating selling assets before divorce, which is okay if both you and your spouse are in agreement for this. It is not something that you want to do otherwise as there could be legal implications. The process of selling your house in the middle of divorce may feel that it is just too much to handle. However, it is most probably a necessity so the more committed you are to getting it sold fast the better it will be for both you and your spouse. Once this has been completed you can both begin to move on with your lives. Every attempt should be made by both parties to co-operate with each other during the sale process in order to get a fast sale. De-cluttering When Selling Chances are either you or your spouse has already moved out of the home, and the one left in it is going to be responsible for keeping the home neat and clean during the sale period. If that party is really committed to having the home sell fast then it means getting rid of all the clutter. You could even begin packing a lot of the items you don't need at the moment and putting these in an inconspicuous place so they don't interfere with the viewings of the home. You really want to attempt to stage the home as best you can during your divorce selling home period.
More Options for Selling a House During Divorce
If you have priced your house realistically you may find that you get an offer from buyers who are investors and are willing to pay cash for your home. This is something you may want to consider even if the price is lower than what you were expecting. You are going through a rough time in your life right now and probably the divorce proceedings are putting pressure on both you and your spouse to get the assets divided so it can be concluded. When you are under pressure to sell your house fast, it may mean that you have to make concessions regarding the sale that you would not normally do under normal circumstances. If possible strongly consider any offers that you do get and listen to the advice of your realtor. This is the professional that has the most expertise when it comes to selling a home fast and this expert will give you their honest opinion on any offers that you receive.
Sell Your House After a Divorce
If you need to sell your San Antonio house fast after a divorce, click here to get an offer within 24 hours! To get your cash offer on your house, call us. We look forward to talking to you about your options. If you aren't interested in selling, but still have questions, feel free to get in contact with us. We are happy to answer any questions.