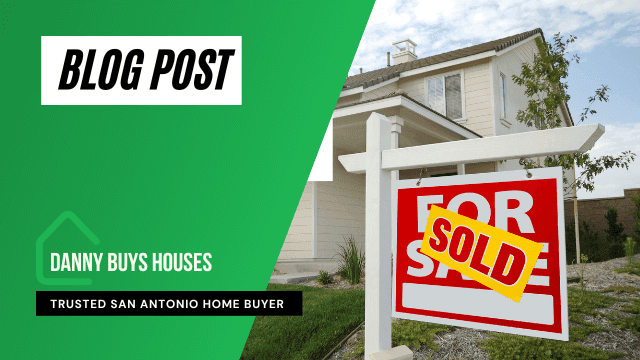 People Who Buy Houses In San Antonio
By Danny Johnson
Looking for people who buy houses in San Antonio? Here is exactly how to find them.
🗂 Table of Contents
There are numerous types of people who buy houses in San Antonio. Home buyers range from first-time investors to experienced landlords with multiple properties, from individuals making single-home purchases to vast companies buying in bulk. Distinguishing between the dissimilar buyers and understanding their needs for a potential property is vital to a San Antonio seller's success.
Everyday People Who Buy Houses
The economy has been steadily improving since 2007's housing crisis: mortgage rates are rising, home equity is increasing, and consumer confidence is climbing. These positive economic conditions are persuading homeowners to sell for a profit. While some homeowners will sell to unorthodox buyers on the prowl for a deal, most will sell to the everyday home buyer. The majority of home buyers today are average people looking to expand, upgrade, downsize, or relocate. Their reasons for buying vary but their purchasing habits are comparably similar. They utilize the services of a real estate agent or launch extensive online searches for homes in a particular area. These buyers are looking for the ideal home to suit their needs including being able to move in right away. Sellers wishing to attract the average buyer need to make their property move-in ready, complete any major repairs before listing, and highlight fixtures that make their home unique. Curb appeal is also a factor to consider for the everyday buyer, but it's not a deal breaker. The common home buyer can be categorized in one of two ways: a first-timer or a repeat home buyer. First-time home buyers are typically young adults that want to own after renting for several years. These everyday buyers are a mixed group containing single adults, unmarried couples, or married couples with children. They also tend to be more computer savvy when searching for a realtor or potential home. When purchasing a property, first-timers will take more time searching while spending less money than the repeat buyers. Sellers looking to appease the inexperienced home buyer need to stage their home prior to the open house and make the space feel inviting. Repeat property buyers care less about the appearance of a home and focus more on location and structural integrity. These common buyers will estimate the costs of renovations and repairs after an inspection and may factor that into the final closing costs. Repeat buyers are less nostalgic about a property and more business oriented. Like first-timers, repeat house buyers are interested in home availability and will sacrifice amenities for move-in readiness.
People who Buy Houses Sell to Landlords
Though not as common as the everyday buyer, sellers will encounter landlords as prospective people who buy houses. Unlike everyday homeowners, landlords are buyers that assess a property's potential to generate monthly income. They seek out properties in populous locations that are either already divided into separate housing units or can be easily separated later at minimal cost. Landlords are business oriented and treat purchasing property as a business arrangement. They are typically curt, experienced, and know exactly what they want from a property. If a landlord is interested in your home, expect a fair offer and quick closing. Being a landlord isn't for everyone, but it's an emergent trend in today's housing market. As the general cost of housing increases, so does the number of renters. In fact, the number of renters has steadily increased since the housing market collapsed, creating a demand for more landlords. With a strong business plan, hands-on involvement, and some starting capital, becoming a landlord is a smart way to invest. For sellers wishing to attract this particular type of buyer, price your home reasonably and make few minor repairs, if necessary. Many landlords see homes from a business perspective and would rather buy a house that makes sense financially than one they'd move into immediately.
Individual Investors and Investment Companies
Sellers should be aware of another major group of people who buy houses: investors. Like landlords, investors are business-minded buyers that hope to make a profit after purchasing a home. However, instead of renting the property out directly, they add value to a home by renovating or rehabbing and then resell at a higher price. This buyer category includes both individual investors with deep pockets and multi-faceted companies comprised of many investors. Individual investors are the biggest competition to the everyday buyer when house hunting. While trying to establish a steady stream of rental income, investors focus and find the most affordable and transformable segment of the market: smaller homes in the suburbs. The single-family homes provide little risk when reselling due to the constant need of a standard starter home on the market. Investors also seek out ugly houses that need cosmetic updates and medium repairs. When looking at potential properties, individual investors will crunch the numbers when calculating a bid for the sellers. From a seller's perspective, investors are the ideal people who buy houses. Typically, they have higher incomes and credit scores than primary residence buyers. They are also more likely to skip the mortgage process altogether and finance a purchase with cash. This allows investors to make offers without a financing contingency and close on a deal more rapidly. The everyday buyer can barely compete with the investor's financial advantage when purchasing from the limited supply of smaller homes.
We Buy Houses Companies
Companies that buy houses are as varied as individual people who buy houses. Most home-buying companies are considered investment businesses that are in the industry to make a profit. Unlike investors though, we buy houses companies will buy even the most dilapidated home without contingency. They're not looking for the best deal; they buy ugly homes solely to clean up, make better, and sell to a family. These companies also work in a limited area, familiarizing themselves with culture and improving neighborhoods by providing better homes upon resell. We buy houses in San Antonio are legitimate companies offering the community a premium service: they rejuvenate the community by renovating unwanted homes. They also provide sellers a quick closing due to purchasing power of cash. For a fair home estimate and speedy sale, contact your local we buy houses company (Danny Buys Houses) today.