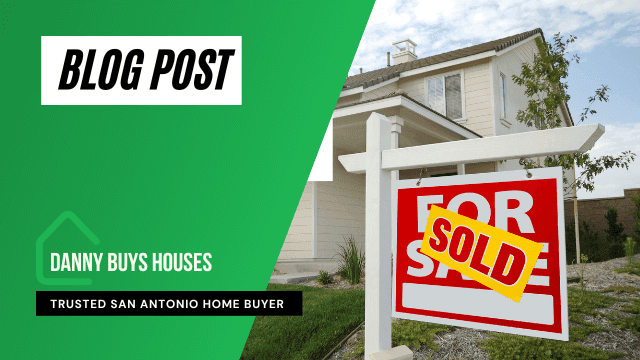 6 Marketing Ideas That Will Sell a San Antonio House Fast
By Danny Johnson
Try these ideas to sell your San Antonio house fast.
🗂 Table of Contents
Spring is here! For many of you, now is the time to start thinking about how to sell a house fast in San Antonio, TX. You've got quite a task ahead of you! Getting a house ready to sell is step one. Marketing is step two, and can sometimes be harder than preparing the house for sale. This week's post is all about six things that you can do to market your house and get it sold in no time. Using one or more of these tips can help anybody sell a house fast!
1. Pictures
Pictures play a huge role in an individual's ability to sell a house fast. They are what create interest and drive traffic to a house. Most buyers begin their search for their next house online. This means they are going to be looking at hundreds of pictures a day to filter through houses. How can you gain an advantage?
Front
The picture of the front of the house will be your "featured image." It is the first image that all interested buyers will see. The first impression that your house makes on a buyer could be what makes or breaks a potential sale. If you want to sell your house fast the picture of the front of your house has to make a lasting impression. Make you're your yard is clean and your landscaping is done!
Exterior
Exterior photos confirm the condition of the property. They help to build the overall atmosphere of the house. While taking pictures of your yard and house are huge helps you need to think outside the box! In order to sell a house fast you need to sell the lifestyle and environment that comes with it. Include pictures of any parks, schools and points of interest that help promote the overall experience of buying your house.
Interior
Interior photos need to be done with a wide angle lens to help capture the overall size and feel of each room. Make sure to include any selling points like fireplaces and kitchen islands in your photos. Turn on all of the lights and open all the blinds to make sure that you have the maximum amount of light possible coming into your shots to help show off your home's features.
2. Virtual Tours
Virtual tours are great tools if you really want to sell a house fast. You provide interested buyers with all of the information they are looking for up front. You'll need to make sure to include your virtual walkthroughs in all of the online marketing that you choose to do. It is fairly easy to create a virtual walkthrough using a camera and the video editing software found on most computers, but you could always get the work hired out. No matter how it gets gone, a virtual walkthrough could be a big help in selling your house.
3. Signage
There's nothing like a good ol' fashioned for sale sign in the front yard to promote a house being sold. It is practically free to do and gets you unlimited exposure in your local market. Whether it is a for sale by owner sign or a realtor sign, a sign in the front yard screams "I need to sell a house fast!" If you place additional signs at the corner of your neighborhood you'll have all kinds of interested people stopping to take a look at your house, not just the ones from down the street or from the next bloc over.
4. Print Advertising
Print advertising is another way to get great exposure when trying to sell a house fast. Newspapers are still a great way to get your house noticed. Most local newspapers are only printed once a week. This means putting an ad in that comes out when the new paper comes out will get you exposure for a whole week to potential local buyers. City papers take a bit more calculating. Many cities have a Sunday paper that comes out and has a much larger viewing base than their weekly paper. Getting an ad in the Sunday paper could really boost awareness about your house for sale all over the city! Last take advantage of all online services. There are many sites like Craigslist, Zillow and Realtor that allow you to list your house. Again, many people begin their search for their next home online. Listing here gives anybody the opportunity to sell a house fast.
5. Direct Mail
Direct mail is used to reach a very specific audience. As a seller you can use this method to drive awareness about your house for sale. Mail to friends, family and coworkers. Include any types of marketing that you have printed up for your house. They can help spread the word to other people who may be interested in buying. Consider mailing to real estate agents as well. They are well networked.
6. Open Houses
An open house is an awesome way to drive awareness about your house being for sale. It gives you the opportunity to sell that lifestyle and experience that you've been promoting through your other marketing. Make it an event! Have a bbq or raffle-off some items. Provide an experience, not just tours of a house. Its details like these and going the extra mile that will help sell a house fast. All six of these marketing ideas are great if you're trying to sell a house fast. I definitely recommend using more than one. If you take the time to take great photos then the rest of the strategies above will get you great results. I hope this is able to help anybody who needs to sell a house fast. Please feel free to leave comments or discuss other marketing tactics that can help get a house sold in a hurry!