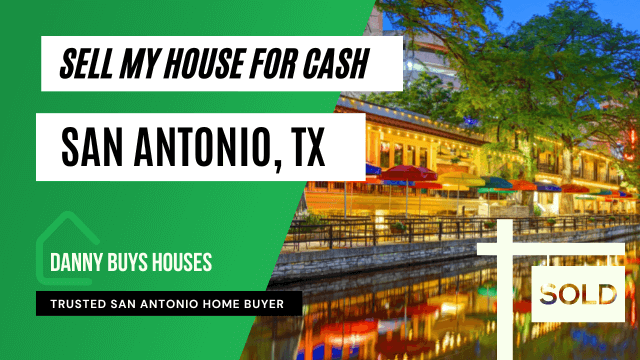 Sell My House For Cash In San Antonio, TX
By Danny Johnson | Published 7/19/2022, 1:04:00 PM
Selling your house for cash can happen sooner than you think. Here are 7 reasons to sell your house for cash in San Antonio, TX.
🗂 Table of Contents
Looking to "sell my house cash near San Antonio, TX"?
Some people are ready to sell their home, need to do it fast but have no idea they can get cash for their house in San Antonio. There are actually a lot of good reasons to sell a house for cash. Selling your home for cash is much faster than putting it on the market yourself or going through a real estate agent.
Selling My House For Cash: How does it work?
If you ever wondered, "Could I sell my home for cash?" The answer is "Yes"! you can. A real estate investor can set up an appointment to come and assess your home and determine how much it's worth and what they are willing to pay for it. They will then make you a cash offer which you can accept or decline. If you choose to take the cash offer, the investor will handle all the paperwork through a title company and in just a few days your home will be sold and you will have cash in your pocket.
There are plenty of reasons to sell for cash, here are 7 good reasons for you to sell a house to a cash home buyer.
Reason #1: You are not responsible for making any repairs
That's right. When you get cash for houses in San Antonio, you do not have to pay to make repairs, or make any repairs yourself. The investor will make an offer for your house as-is and then they will make any repairs that are needed after they buy your house.
They hire contractors to do the work at discounted rates due to the large amount of work they need done. If you go through a lender, they will require numerous repairs to get the house to meet their requirements and lending criteria. You are not out any money for paying for expensive repairs when you sell your home for cash.
Reason #2: The closing will happen very fast
When you got through a real estate agency or a Realtor, or even if you try to sell a house yourself, closing can drag on for weeks, months or what feels like forever. When you go through a real estate agent the buyer has to find a lender, you'll have to get the property appraised, do any requested repairs, and pay for numerous inspections. If you want to sell fast, you will likely also have to stage the house and be available for showing it to potential buyers. These all take time and add to your stress.
Cash buyers do not need all of those things. This saves a lot of time when it comes to getting the house through the closing process.
Reason #3: You don't have to deal with calls from ads
Selling a house through Craigslist, a newspaper ad or online real estate sites like Zillow can be less expensive than an agent.
But it can cost you in time fielding all the calls.
Plus, you'll have to set up appointments for people to see your house without knowing who they are for sure or whether they have the financial ability to buy your house. This process can consume a lot of your time answering calls and showing your house to potential buyers. Ads can also attract a lot of people who are not qualified buyers who can end up wasting a lot of your time for nothing.
It's not uncommon to have someone make an offer and wait until the week of the closing to inform you they were unable to get a loan to buy the house...which you puts you back to square one.
Reason #4: You can save realtor fees
Selling through an agent or agency might seem easier, but you will end up paying for it one way or another. Not only will you be out of pocket for repairs and inspections, but most of the time you'll be charged a hefty fee for them to sell your house for you. In essence, you have to share your profits with them. But by selling to a cash buyer, you will save thousands of dollars in commissions and fees and you get to keep it all.
Reason #5: You can close in just a few days
Selling your house for cash can mean you can close in a matter of days rather than months. In some circumstances, if it's necessary, it can be a done deal in just a couple of days. The reason why the closing can happen so fast is you don't have to wait on all the loan processes or waiting for someone to qualify for a loan.
Many times a potential buyer has trouble qualifying and can tie you up for long periods of time and still not qualify. This can delay closing by weeks at best. By selling for cash you skip this process and close quickly with your money in hand. You can sell for cash to avoid foreclosure and extra fees if you have been missing payments.
It can also help you avoid past due taxes.
Reason #6: Avoid contact from the buyer after the house has sold.
This one isn't thought of often. When you sell a house through any of the traditional means, there are times when the buyer might contact you after the closing due to a problem of some kind that arises with the house.
Yikes!
Maybe they found something that needed to be repaired or had a question of some sort. This will not happen with a cash buyer since they almost always purchase the house as-is. Cash house buying companies know the risks and are ok with assuming that risk. This removes all the liability from you and you won't have to worry about anything that might come up. That's piece of mind!
Reason #7: Sell in stealth mode
You can sell your house before anyone even finds out it was up for sale. Sometimes people don't like to be put in a position to have to answer questions from nosey neighbors, friends or family members when they sell their house. When you sell to a cash buyer, you do not have to advertise or inform anyone about your intentions.
All those nosey people won't have a clue you are selling your house.
Conclusion
These are seven of the top reasons why it's a good idea to sell your house for cash. There are plenty of real estate investors who are willing to pay cash for houses in San Antonio and many other regions across the US.
We can pay cash for your house.. We buy houses in San Antonio.