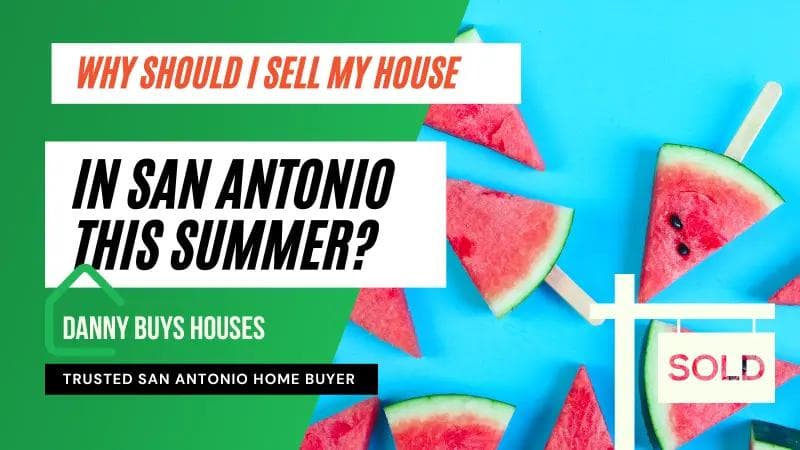 Why should I sell my San Antonio house THIS summer?
By Danny Johnson
Summer is the best time to sell a house in San Antonio. Here is why.
🗂 Table of Contents
Summer is, without a doubt, the busiest time of the year for everybody in the real estate industry.
Realtors, investors, buyers and sellers alike stay busy all throughout the summer months packing, moving, buying ,selling and helping one another.
In my previous post I wrote about summer being a great time to sell a house. I wanted to dive more into answering the question "why sell my house THIS summer." Summer is normally the best time of year to try and sell a house, but what makes this summer so special?
Let's look into the details.
This is a seller's market
Sellers are in control of real estate markets all over the country. There are way more buyers than there are houses, even in 2023!
This means that as a seller there is a better chance of you getting multiple offers on your home than in previous months. Investors and home buyers alike flood the market during the summer anyway, but this summer has seen some of the higher buyer to home ratios in recent years.
Now is a great time to stop asking "why sell my house" and switch to "why not."
Summer weddings cause booms
The months of June, July and August are the most popular times for weddings in the U.S. After the honeymoon newly wedded couples, if they don't already have a starter home, get serious about buying.
That's a large influx of people who are serious about making you an offer on your home. Couple that with the already existing real estate professionals in your area and you can see how buyers can easily outnumber sellers.
Job relocation
Summer is the biggest time of the year for job relocation.
In fact, according to Shyft:
60 percent of people move during summer - between May and August
Coaches and businessmen alike spend the summer relocating to all different parts of the country.
This is just an example of how active the workforce is during the summer months.
While this summer in particular doesn't seem to have any extraordinarily high relocation rates, this is something to keep in mind while asking yourself "why should I sell my house this summer."
College graduates are starting their lives
In May and June all across the United States students graduate from college. Many of them will be looking to really start their lives.
This could be anything from getting a job and starting their career to starting a family. Hundreds of thousands of people will start searching for homes to settle down in and begin this new chapter of their lives.
This group of people just adds to the number of already interested buyers near you, strengthening the argument that summer is the best time to sell a house.
So, why should I sell my house this summer?
Selling your house this summer could be one of the best decisions you have ever made. There are a ridiculous amount of people looking to buy your house. Everybody from newly-weds to college graduates are looking to start their lives in a new home.
San Antonio house buyers are at the peak of their yearly activity, making the best offers on homes possible. No matter what your situation might be, there is a buyer out there for your home.
If you do not sell and go on vacation instead this summer, be sure to check out: 8 tips for keeping your house safe while on vacation