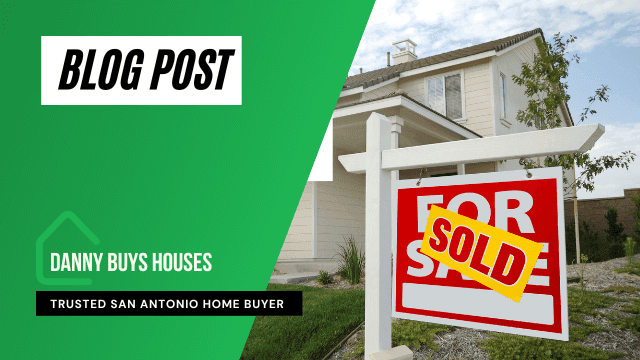 Options to Sell Your House Fast When Facing Foreclosure
By Danny Johnson
Your options are limited when facing foreclosure. Here is how to sell your house fast.
🗂 Table of Contents
So, you're facing foreclosure and all you want to do is sell your house fast, quick and without any hassle? Selling a house can be a daunting process for those inexperienced in the real estate business. However, this article will help you break down and explain all questions you might have about selling your house fast when facing foreclosure. I'll teach you how to sell a house to avoid foreclosure, how the owner can sell a house when in foreclosure, how to sell your house before foreclosure and selling your house during foreclosure. Let's go.
What is foreclosure?
Foreclosure is a legal process which is undertaken if the homeowner fails to pay his mortgage. If you're from San Antonio, have a look at my What is the Foreclosure Process in Texas? article to fully understand the laws and the consequences of the foreclosure process in Texas. The trick most people aren't aware of is, that you can sell a house fast when facing foreclosure. Here's how.
How to sell your house fast when facing foreclosure
There are several options you have when you want to sell a house fast:
Sell with an agent at a reduced price
Plenty of websites will tell you how to sell a house with an agent, but not many go into how to sell with an agent at a reduced price. There are a few tricks you can consider when you want to sell your house fast when facing foreclosure. Trick #1: Lower the commission fees Realtors usually charge 6% or more on commission. It's what many accept as a standard fee, however, you are often able to negotiate this fee into half. Trick #2: Compare agent fees Don't go with the first agent you find just because they're the closest to you - they might be charging fees out of this world. Instead, shop around - find someone who you feel will be willing to lower the fees and still perform an excellent job. Trick #3: Up the value of your property Although this might not necessarily lower your agent fees, it will help you balance it all out and keep a steady cash flow.
Sell to cash home buyers
Selling your house fast to a cash home buyer is becoming a popular option in the USA and it's slowly spreading around the world. There are many pros that come with this decision:
Your house can be sold in a week - if you sell with DannyBuysHouses, we will aim to sell in just a couple of days if necessary.
Sell without making any repairs on the house.
Receive a cash offer within 24 hours.
Hassle-free sale.
Sell for sale by owner
There are many reasons why someone might not want to go through a realtor to sell their house:
It's expensive.
It takes time.
It's a gamble.
It depends on the season.
If you're real estate savvy and an excellent negotiator, you can sell your house fast when facing foreclosure by selling it by yourself. The truth is, you can save more than 7% of the property value if you decide to sell a house by owner.
Here's how you can be your own real estate agent:
Put a value on your home.
Obtain a flat fee listing on the MLS
Research laws in your state.
Hold a house viewing.
Sell, sell, sell!
Please note that selling your own home is not for everyone - it requires plenty of business skill and some marketing experience. But don't you worry - just move on to the next step in this article to find out how to correctly market your property and sell your house fast when facing foreclosure.
Must-do marketing tricks to sell your property FAST
So here's how you should market your house to sell it fast when facing foreclosure.
'For sale' sign on your front yard.
List your property on reputable services such as Zillow or any newspaper ads if you're looking for a local buyer.
Start a property auction!
Create a website for your property. Use Google Adwords to attract more users.
Put your property website in your email signature.
Promote your property on Facebook and Facebook real estate / house buying groups.
Do a tour of your house on Youtube.
Network. Network. Network.
Word of mouth - your buyer might be living next door!
Use flyers to attract locals.
Advertise at your local events.
Find property buyers in your area.
Email campaign!
Open and friendly communication with everyone you come in contact with - be AWESOME!
Marketing tips: Don't overdo it. Make sure your reputation is positive - sometimes too much marketing can bring bad reputation to your property and it will make it harder for you to sell. The best option is always to start locally - just ask around, you never know what or who you might find in your area. For more information about preventing foreclosure, please read this article.
Avoid Foreclosure By Selling Your San Antonio House Before Auction
Remember:Danny Buys Houses can make you a cash offer to buy the house as-is. Paying cash for houses allows us to close very quickly…in as little as 2 days if absolutely necessary. Click here to get a cash offer for your house or just give us a call. We look forward to talking with you about what options you have.