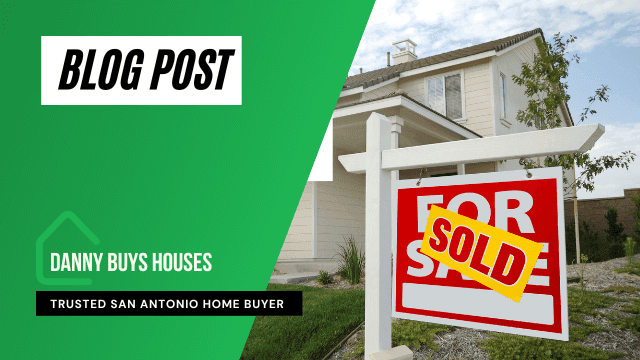 Top 4 Ways to Sell a House Fast This Summer in San Antonio
By Danny Johnson
Looking to sell your house this summer? Here are some great tips to sell that San Antonio house fast.
🗂 Table of Contents
Summer is the hottest time of the year for homeowners to sell a house fast. Every summer all over the country, the housing market heats up. San Antonio is always one of the most active summer markets. If you need to sell a house fast, now is the time to do it. If you have never sold a house before and are looking for some different options, then this is the right post for you. In this week's post I'll be covering the top four ways to sell a house fast in San Antonio. Some of these methods work better than others, which is why I'll be listing them from least effective to most effective. If you're thinking, "I need to sell my house this summer!" We've got you covered. Starting with...
4. Local Marketing
Local marketing is a great way to reach out to people who regularly commute in your neighborhood. Putting a sign in the front yard is a great start, but you need to do a little more if you want to sell your house fast. Go to the ends of your streets and place signs with arrows that point towards your house. Don't stop there. Grab a few more of those arrow signs and place them at the entrance and exits of your neighborhood or subdivision. This will ensure that the greatest number of potential local buyers see that your house is for sale with minimal effort. The next step takes your marketing to the next level.
3. Internet Marketing
San Antonio is a military city and there are always people looking to relocate. If you seriously want to sell a house fast you should consider marketing to a larger audience. Use the resources available to you on the internet to reach out past your local market. Services like Trulia, Zillow and Redfin are great ways to sell a house fast. Listing your home on these sites will increase your exposure past your local market and into much bigger cache of interested buyers. People who don't even live in the same state, but are looking to relocate to your area have a greater chance of finding your home online than by word of mouth.
2. List With an Agent
This is one of the more popular choices if you need to sell a house. Listing your house with a realtor will get you plenty of exposure and offers on your house. However, if you need to sell your house fast this summer, you might want to reconsider this choice. While listing your home with a realtor gets you plenty of offers, you will have to be prepared to make sacrifices. You'll have to be ready to show your house at all kinds of times throughout the day. You'll also need to make sure that your house is kept up with and clean. There is also no guarantee that your house will be sold fast. It could sit on the market for months.
1. Sell to an Investor
This is your best bet to sell a house fast this summer. Investors like myself are always looking to buy properties. San Antonio is one of the best markets in the country to find an investor willing to pay you cash for your house. You don't have to do any marketing, cleaning or stressing. When I buy houses in San Antonio, it's as is and normally within two weeks. How can you beat that!? Investors are a great way to get the fastest possible results. If you need to sell a house fast, we are ready to buy. Simply reach out and see how quickly you get results. If you need to sell a house fast, take action and make it happen. Market locally or through the internet. Get your house some exposure using a realtor. Use a local real estate investor to get fast results. No matter what method you choose, choose to take action and sell your house!
Need more marketing ideas? Check out these marketing ideas for selling your house fast!
If you need to save money this summer while trying to sell your house, consider these 4 tips for cutting cooling costs this summer.
You are welcome!