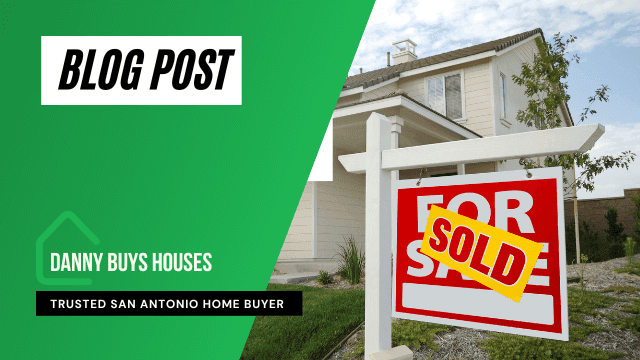 Top 5 Methods to Sell Your San Antonio Home Fast
By Danny Johnson
Want to sell your San Antonio house fast? Here are 5 ways to ensure a quick sale of your home.
🗂 Table of Contents
With the economy and the housing market so uncertain, selling a house has become very difficult for most. The people with nice houses in the best parts of town are even having some difficulty finding qualified buyers.
If that is the case, you can imagine how difficult it will be for those that have properties that need repairs, have tenants, are behind on payments, are in less than desirable areas, have inherited properties, are out of town, etc. If you need to sell fast, you are going to face a challenge.
It's not all doom and gloom though. Here are five ways to help sell your house fast, even in this market.
Real Estate Investors
The fastest way to sell your house is to sell to a real estate investor. Investors typically advertise using the "We Buy Houses" slogan. Investors are able to pay cash for houses, which provides many benefits to home sellers. Traditional buyers need bank financing to purchase their house. The buyers typically have to jump through a lot of hoops to get qualified and close the loan. This takes lots of time. You also have to consider that as the housing bubble has burst, banks have become super conservative and many buyers that used to be able to qualify, no longer do. Paying cash allows investors to close within 3 days if necessary. Most investors buy houses 'As-Is' which allows sellers to avoid costly repairs and concerns over problems with their properties. If you truly want to sell your house fast, call a local real estate investor.
Realtors
You can list your house for sell with a Realtor and still have a chance of selling fast. The trick is to find a go-getter that will be proactive in selling your house. Many times, Realtors will just list your house in the multiple listing service and not do much else. You will just have to hope you get lucky and have a qualified buyer find your house listing and want to buy your house. In today's market, this could take 6 to 9 months or even longer. This is the main reason so many people try to sell their house without an agent.
Yard Signs
Another option is to sell yourself, or For Sale By Owner, using yard signs. This method of selling will work if you put in a lot of work. You will need to put a "For Sale By Owner" sign in your front yard. It is very important to also put direction signs (signs with a large arrow on them) at the cross streets near your house and at the entrances of your neighborhood. This will allow you attract more potential buyers. Just as with Realtors, you will have to hope a qualified buyer comes along quickly.

Newspaper
You can also place an ad in your local newspaper classifieds. This does not just mean your main local paper, but also the local free papers like the Thrify Nickel or Greensheet. You will have to do all of the showings and qualifying and wait for the right buyer. To sell your house fast, consider using all of your local newspapers.

Online Classifieds
This is a relatively new way to sell your house. You can post free ads on sites like Craigslist.org. There are a lot of buyers looking for houses online these days. This will help your chances of finding a qualified buyer quickly.
Find out how much we can offer you for your house
Want to sell your house the fastest way possible? We can help. We buy houses in San Antonio.
Want More Ways to Sell Your House Fast?
If you feel like you could benefit from some more tips to sell your house fast in San Antonio, try these 5 ways to sell your house fast!