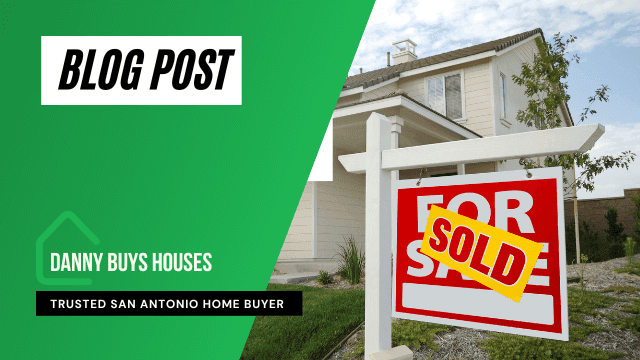 We Buy Unappealing Houses in San Antonio
By Danny Johnson | Published 1/10/2017, 7:52:45 PM
🗂 Table of Contents
Are you looking to sell your old house and don't have the money to afford all reparation work? Have you ever thought about selling your house to a cash buyer? That's right - we buy unappealing houses and we buy them for cash. Many of those who wish to sell their house face the dilemma of postponing the sale in order to work on house repairs to get more value. But then there are also people who just don't have the time to do all those things. And that's where Danny Buys Houses comes in - we buy unappealing houses for cash.
What's the house buying process like?
I'm sure you know the time you need to take to sell a house, right? Real estate sites usually advise that you start the house selling process at least two months before posting a listing and then there's the usual required work to do about 8 weeks after the initial and closing offer. Think about it - before you even consider selling your house the traditional way you should do all necessary repair work to make it look presentable, hire people that will help you determine the value, hire more people to advise you how to sell your house, hire agents, be around for viewings, be around for questions, wait for an offer and more. What happens if your house never ends up being sold? Can you afford that? Many people don't know there are other options of selling a house - you can sell your house fast by getting in touch with a cash buyer. We buy unappealing houses and our mission is to let people sell their house fast - there's really no need to wait months and months for paperwork and spend extra money on research and repair work. Your house can be sold in less than a week! Living in San Antonio we understand people inherit houses they don't necessarily want - so what can you do with that old house? Restoration takes unexpected time and a lot of work. If you're a busy person, you probably don't have time to supervise your construction workers or even visit your old house more than once per week. If you're a veteran in San Antonio, we know you sometimes have to relocate fast and going through the traditional house selling process is not an option. And if your house is old and you want to sell it as quickly as possible… we understand that too.
We buy unappealing houses!
Why would someone even consider selling an unappealing house and not fix it to have a better value you ask? There are a few scenarios that come to mind.
They want to sell it fast
They don't have the money for house repairs
They have to relocate and don't have the time
That's all there is to it. We buy unappealing houses and the process is quite simple. Here's how it works:
After your call, we make an appointment to go see the house
Seeing your house will help us determine the work we have to do and the value we can offer. Worried about the state of your house? Don't - we buy hideous and unattractive houses! Really - all work that comes with repairing a house is on us and you won't have to worry about a single thing.
We will then give you a no-obligation offer
It's up to you to take that offer or leave it. We want to make sure our clients are comfortable at all times - after all, you're the one selling your house and you should have a complete control of doing so.
We will sign the closing documents
Closing documents are always signed in a legal place - our number one priority is the safety of our customers as well as the safety of the entire transaction. Since we buy houses for cash, we need to make sure both parties are safe before and after the meeting.
And that's it! Your house is sold!
People who buy unsightly houses may be hard to come buy and we understand this puts an endless amount of stress on the seller. What if you don't have time to do all the paperwork and fix everything before you sell? You should always have the option to sell your house fast. Avoid endless bank delays and meetings with your tax advisors - it's not needed.
How long does it take to sell a house?
It can take 48 hours to receive an offer on your house and then it's up to you. We always make sure we cater to our client's needs - want your house to be sold in a week? Not a problem! Need to wait a few months? We can do that too! Tell us your preferences and we'll make it all happen. The quicker we can visit your house to determine the value, the faster we can move on the entire process. Ready to sell your house? Give us a call - we are here to answer all your questions and we buy unappealing houses. Have a read through our blog - you can find articles on probate sale, being a landlord, inheriting a house and more. When it comes to real estate, we know everything there is to know so don't be scared to ask us a specific question about your house. Our number one job is to help people understand the real estate business in San Antonio and make the best decisions for themselves and their families.
Give us a call at 210-610-2511 and let's discuss how you can sell your house today!