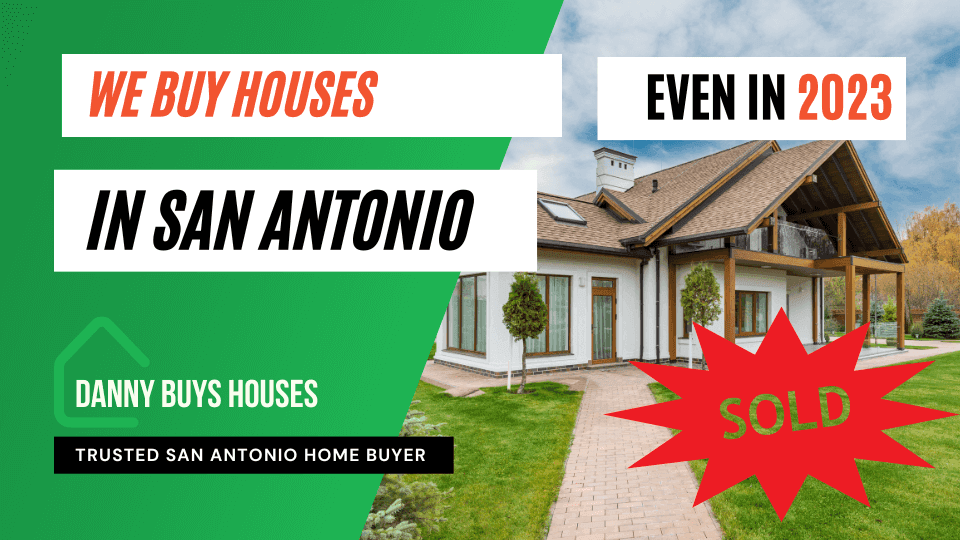 We Buy Houses in San Antonio [Even in 2023]
By Danny Johnson
We buy houses in San Antonio even if others have stopped because of the changes in the market. Visit us to see why hundreds have entrusted Danny Buys Houses.
🗂 Table of Contents
We buy houses in San Antonio so that you can move on with your life.
Are you here because you are considering selling your house to one of the 'we buy houses' companies?
You're in the right place! We will take you through the ins and outs of selling your San Antonio house to a cash home buyer.
There are some important things to know to ensure your transaction is handled professionally and to avoid some of the we buy houses scams out there. Yikes!
Are Those We Buy Houses People Legitimate?
Many times, people will question whether these companies are even legitimate. That's understandable given most people find out about them by the signs left on telephone poles.
That does seem rather shady.
This begs the question, "if you can buy houses cash, why can't you pay for legitimate signage?"
That's a valid question. Many of these companies are simply individuals starting out in real estate investing and house flipping. They might not have ever bought a house before.
This doesn't mean that all companies or people that post these signs are not capable of buying your house. It just means there is a good chance that the transaction won't be handled very professionally.
How to research the legitimacy of we buy houses companies
Here are 5 ways to determine whether a we buy houses company is legitimate in 2023.
How long have they been in business? 3 years or more is what you are looking for.

According to LendingTree, 20.8% of private sector businesses in the U.S. fail within the first year. After five years, 48.4% have faltered. After 10 years, 65.1% of businesses have failed.

If you find a house buyer that's been in business longer than years, you know you are working with the top 1/3 of we buy houses people.

How many houses have they bought in the last year? If they are able to come up with the cash to buy 5 or more houses over the last 12 months, they will be much more likely to come up with the cash for your house.

According to Realtor.com's Investor Report for 2023, "Early in the pandemic-era boom, as housing demand skyrocketed and rents increased, larger investors edged out smaller investors, growing their share of investment purchases from 16.7% in July 2020 to a high of 31.8% in June 2022. Since then, the trend has shifted back towards smaller investors."

This shows smaller investors may be your better option as long as they are regularly buying homes.

Are they a Better Business Bureau Accredited business? This one shows you they are a legitimate business that is willing to be listed publicly with the BBB.

According to the Better Business Bureau, in their 2022 US Complaint Statistics Report, there were 869 complaints filed against real estate investing companies. The BBB is a great place to vet a potential house buying company.

Do they have a website and reviews? If the people they have worked with are happy, chances are you will be happy too.

Luisa Zhou has compiled 2023 statistics on how online reviews affect consumers decisions.

She says: 97% read reviews for local businesses and 94% say reviews have made them avoid a business.

People take these reviews very seriously and are a great way to find the house buying companies you can trust working with.

Do you like them? Seriously. If they come across as shady or like used car salesmen, you might want to look for another option. Trust your gut.
We Buy Houses Scams To Watch Out For
We buy houses scams are nothing new.
The big one to watch out for is when someone asks you to sign documents transferring the deed to the house.
The only document you should be signing upon accepting an offer is a Real Estate Purchase Agreement. Specifically, the 'One To Four Family Residential Resale Contract'.
This agreement is used to spell out in writing everything that is being agreed upon for the transaction.
The closing is where the transaction will be completed.
This is where the title company will have the legal documents prepared and signed by both parties.
If a we buy houses person is wanting you to skip the closing or have it at your house, you would be advised to avoid them.
In addition to these signs the cash buyer could be a scammer, be sure to check out Trulia's 9 Ways Your Cash Buyer Is a Scammer.
One nugget from their article is:
And Brad Chandler adds this advice: "Require a large, nonrefundable deposit, 5% to 10% of the purchase price." And never conduct further business with someone, particularly a stranger, until you have written evidence that the check cleared.
We Buy Houses Reviews
One of the best ways to know you are working with a solid house buying company is to check their we buy houses reviews.
There should be many reviews on their home page and other pages of their website. Another place to see reviews for a company are on Facebook.
Here is what we buy houses reviews on Facebook look like:
The internet has changed the way we do all do business.
Think about it, when you want to know who to work with you probably Google them. No longer do we open up the yellow pages (do those even exist anymore???).
This allows us to do our own independent research on companies before we contact them.
We Buy Houses Fast in San Antonio
Danny Buys Houses is a local, legitimate house buying company. We have been in the business of buying houses since 2003.
We've got dozens of reviews from customers over the years and a track record of closing every single transaction we promised to close.
We do pay cash for houses so that you can:
sell your house as-is (skip all the repairs and clean up!)
close within 5 days
avoid fees and agent commissions (we charge no fees)
work with a local San Antonio company that understands the market
We will make an offer to buy your house no matter the condition or location. We've seen all possible situations and are comfortable helping you through whatever you are facing.
Sell Now?
According to Forbes, regarding the real estate market in 2023, "This is the third consecutive month of year-over-year national home price declines after a 131-month streak of record increases."
We Buy Houses Texas
Do we buy houses in other areas of Texas besides San Antonio? Yes, we do buy houses all over Texas.
If we do not service a particular part of Texas we likely know a legitimate we buy houses company in or near there that we can recommend.
How Can I Sell My House Now?
Great question!
You can start by checking out our website to see how the process works and read reviews from happy customers.
If you feel like we are a fit for you, when you are ready to receive a cash offer, simply fill out the form on this page or give us a call!
Conclusion
There are legitimate we buy houses companies in San Antonio. You just need to know what to look for.
We hope the tips in this article will help you to make an informed decision on who to buy your house fast in San Antonio, TX.