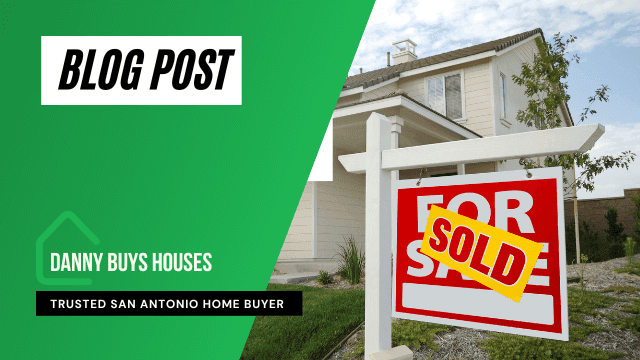 Guide to Sell a House Yourself in San Antonio
By Danny Johnson | Published 1/4/2018, 1:01:22 AM
🗂 Table of Contents
It is possible you want to sell a house yourself but are not sure what things to do to sell a house quickly. You will likely benefit from a well-developed step-by-step guide to help you. While each homeowner may find their situation is unique, for most these six steps are necessary if you want to sell a house yourself. It is possible to sell your house yourself and you can sell a house without an agent fast. There are lots of reasons you might want to sell a house yourself. If you're facing foreclosure, or thinking about auctioning your house, selling it yourself might seem like a better option. Let's go over the steps to sell a house yourself so you can decide if it's the right fit for you!
Step 1: Research, Research, Research
The very first thing you need to do if you want to sell a house yourself is become very familiar with real estate transactions. This means doing a lot of research to find out what types of paperwork you will need, and how contracts on homes work. Ask yourself, what do I need when preparing my house for sale? Think about all the steps and paperwork involved when you first bought your house. This will give you a good idea. You'll need forms for closing, disclosures, insurance documents, appraisals, and the required legal documents. During this step, you will also want to think about all the people who will be involved in the process such as the appraiser, the title company, a lender and perhaps a real estate attorney.
Step 2: Get Your House Ready for Sale
The second thing for getting a house ready to sell a house quickly checklist is to prepare the house itself. This can be a time consuming and costly endeavor. There can be cosmetic problems as well as functional issues along with any number of things that you cannot fix. You may need to hire multiple contractors to make repairs or renovations. Check all your appliances, heating and cooling system, roof, and the exterior siding. One of the things to do to sell a house quickly is to paint the exterior and interior portions of the house.
Step 3: Set a Price
Many homeowners try to price their home way too high, this can scare off a potential buyer. This can cause the property to set on the market indefinitely. When this happens, buyers can start to wonder what is wrong with the house. Effective pricing can help sell a house faster and determining a fair price is one of the most important things to do to sell a house quickly. You may need to hire an appraiser if you want to sell a house yourself.
Step 4: Put the House on the Market
If you want to sell your house yourself you will have to put it on the market yourself, especially if you want to sell house without an agent fast. Knowing how to market things online can help with this important step. For just a small fee you can list it on different websites giving it the exposure it needs. There are some websites geared to helping you sell a house yourself. Spread the word around your social media websites and any forums that you spend time on. Don't overlook traditional marketing outlets like newspapers.
Step 5: Start Negotiations
Be ready to negotiate the price of your home. You may get offers or counteroffers. Make sure to allow for your bottom-line if you have one. If you are uncomfortable with haggling about the price, you may need to hire a real estate attorney to help.
Step 6: Close the Deal
If you want to sell a house yourself, become familiar with all the paperwork required for closing a home sale. Ideally, the buyer will show you a written preapproval which can help speed up the closing process. However, be ready for snags and delays because they are likely to occur. Give yourself some cushion when setting a closing date. Be flexible when it comes to scheduling your move and the turnover. There can be any number of reasons for a mortgage approval to be delayed. Also, prepare yourself for results that may come from an appraisal or inspection. Also check all the laws to make sure you have everything you need when it comes to the closing. You'll need to be familiar with requirements for both state and federal laws. Sometimes it's helpful to hire a title company to help manage all those last-minute details if you are selling your house without an agent.
Sell a House Yourself Fast!
There is another way to sell a house yourself and sell it fast. Real estate investors will give you cash for your house. This is a much faster process than trying to get your house and paperwork ready to complete the transaction. A cash home buyer will make you an offer and if you agree, they will pay you cash and do the paperwork necessary for the closing. Not only is this a lot faster, it can also be less costly for you. Don't stress out about selling your house, talk to a cash buyer instead. Another great benefit to selling to a real estate investor is that it is an as-is sell. This means you don't have to make a lot of repairs. As a matter of fact, you don't have to do anything to the house before a cash buyer makes the purchase. They will take it just like it is no matter what shape it is in. They will do an informal inspection and make you an offer taking all of that into account. This can save you a lot of money since you won't have to make large repairs like the roof, appliances or heating and air conditioners. You don't even have to stage the house or do any painting inside or out. So it's your choice whether you want to do it the easy way or the hard way!
Sell Your House Without the Hassle
Don't be caught up in the stress of selling a house. We're here to help! We understand how stressful selling a house is. Trying to sell it yourself is only more stressful. At Danny Buys Houses, we'll make you a no obligations cash offer for your house in order to help you avoid stressing over selling the house yourself. Have a question? Give us a call! We're always ready to talk. No matter if you have questions about the house selling process, or want to get a quote for your house, we're more than happy to help! Reach us at (210) 881-7707, or send us a message on our website!