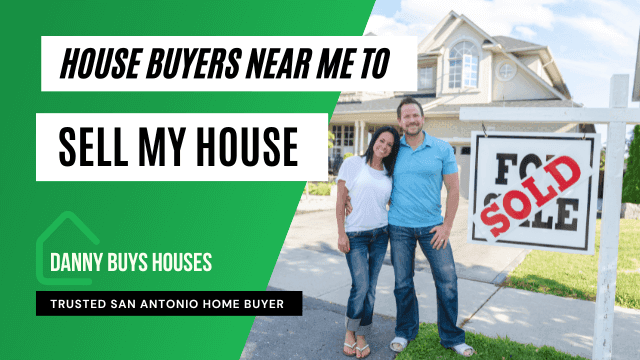 House Buyers Near Me To Sell My House Fast
By Danny Johnson
Looking for local house buyers? Here's how to work with house buyers near me to sell your house without hassle. See if we are a good fit.
🗂 Table of Contents
Looking for house buyers near me...or you? Great. We can help with that. There are some things to watch out for when searching for house buyers in San Antonio.
Selling your home through a real estate agent can take awhile, depending on the market, price, and location of the home. If you're wanting to sell your San Antonio house in a hurry, though, you should consider to sell your house to a cash home buyer. Usually, minimal costs are associated with home buying companies.
There are many things to consider when selling fast to home buyers. This article will help you cover all the bases.
Don't Fall For a "We Buy Houses" Scam
If you decide to sell your home through a cash house buyer, you'll want to make sure the company is reputable. Be cautious of foreign buyers, especially if the buyer wants to buy your home sight unseen. Many scammers usually identify themselves from Canada or China as people who buy houses, but they can be from any country. They usually don't ask any questions about the property and they want you to deal with their attorney since they're not available due to the time difference. These are the typical types of we buy houses scams. Giving you too much financial information is another red flag. It's an attempt to make them appear legitimate as a cash home buyer when they actually don't have the money. However, they will send a cashier's check, anyway, for more than the amount, and then ask you to refund some of the money through a wire transfer. Although the scammer's check or cashier's check has the funds, it'll eventually be returned as a forgery and you'll be out the money you wired. In addition, another sign of a cash home buyer scammer is this individual, identifying themselves as an investor, will often put your home under contract with no earnest money. The contract will typically have hidden "out clauses" letting the scammer off-the-hook. They'll, in turn, try to sell the contract to another investor. Ask a lot of questions, too, of the perspective cash home buyer such as if they're the ones closing on the house or if they plan to find another buyer. This could tie up the process. If another buyer is not found, the deal could be off with the person walking away.
Finding a Reputable Cash House Buyer
You see the signs all over that say 'We Buy Houses San Antonio'. An easy warning sign that a person might not be reputable is their sketchy advertising. Legitimate companies that buy houses usually don't advertise on telephone poles or trees. Trying to find the right cash home buyer can be a challenge, but if you do your homework, you should be ok. It may seem extreme, but consider conducting a background check on people that buy houses fast. Talk to neighbors, co-workers, and check the person's criminal records. Ask for references and testimonials. You have every right as a person who wants to sell a house for cash to call a bank and verify funds. Look up the bank's phone number on the web. Don't call the number on the letter or contract of the buyer. Always go with a local cash home buying company in San Antonio. Anyone locally has a better idea of the market and should be able to offer you more money.
Costs Associated With a Cash Home Buyer
Your costs associated with selling a home in San Antonio will be a lot less if you go with a cash buyer. You won't have to worry about a buyer appraisal, loan underwriting, and so on. When you sell a house for cash, you can close the sale quicker. Typically, it doesn't take the 30-45 days to close. Closing usually takes only about seven days as long as the cash home buyer signs a lead paint waiver. In a short escrow period, there are not as many things that can go wrong. However, there are still some costs associated with selling a house to a cash house buyer. You must still pay state or county transfer taxes and pay for the buyer's title insurance and any property taxes due. The buyer might also want to do a home inspection. When it comes time to close, never sell to a cash home buyer who refuses to close at a title company or attorney's office.
Sell your house to a cash buyer: advantages and disadvantages
Cash buyers are probably going to offer you less than the asking price. But the fact you're going to save money on closing costs and other expenses like title insurance, an appraisal, lenders, and loan underwriting, you might find yourself coming out ahead. Closing costs alone can run $750 on up. When it comes time to get paid, you should get the option of getting a check or having the money wired into your bank account. Even if you don't sell to Danny Buys Houses, feel free to ask us any questions you may have regarding selling your house. We've helped hundreds of homeowners sell their San Antonio houses.