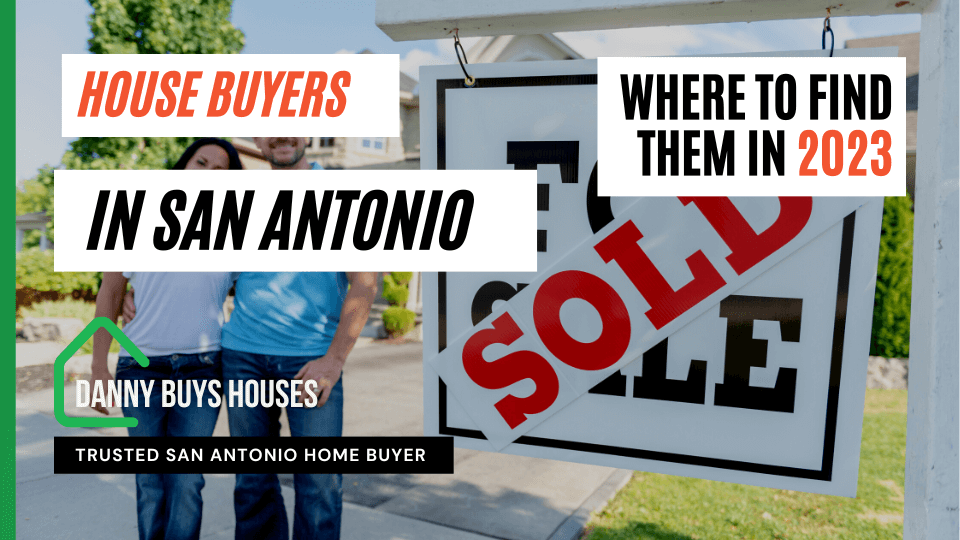 House Buyers in San Antonio [Where To Find Them in 2023]
By Danny Johnson
House buyers have been buying houses in San Antonio for decades. The real estate market has changed. Find out where to find the [best] San Antonio home buyers.
🗂 Table of Contents
House buyers have been offering their services in San Antonio for decades. The Alamo City is no stranger to signs that say 'we buy houses' and 'sell your house fast'.
In this article, we are going to cover who they are, how they work, and where to find them!
We also will unveil the best house buying company in San Antonio!
Fast House Buyers: Who Are They?
Maybe you've heard of these 'iBuyers' and other people who buy houses.
Who are the people that buy houses fast and why?
These are usually people who are real estate investors and house flippers.
The National Association of Realtors created a study of the impact of these institutional buyers. The study found that Texas had the highest percentage of homes being bought by iBuyers with 28% in 2021.
Real Estate Investors
Most house buyers consider themselves real estate investors. They purchase real estate in order to create an investment. The investment is usually a long term one where they will rent the house out after purchasing and making repairs.
House Flippers
Many house buyers, especially in San Antonio, are house flippers. These are individuals or companies that buy houses, fix them up and sell them.
The 'flip' is referring to the transformation of the house from its previous to its new state. You probably have seen 'before and afters' of house flips.
There are many popular tv shows depicting what it is like to flip a house.
Cash Home Buyers: Why Sell To Them?
Cash home buyers offer cash for houses. The transaction is much faster and hassle free as no banks are involved.
When you have a bank involved in making a loan to purchase real estate there are all kinds of red tape and hoops to jump through. Not only that, if the buyer is using an FHA loan they will need to make sure the house meets the requirements set forth by Housing and Urban Development.
When a buyer is using cash to buy your house you get the following benefits:
No need to make repairs to meet inspection
No need to pay for an appraisal
No need to pay for a formal inspection
No need to wait for the bank to approve the loan and issue funds
No need to worry about the closing happening because a bank changes its mind
There are a lot of benefits to accepting an offer from a cash house buyer.
Cash House Buyers In San Antonio
Are cash house buyers in San Antonio?
Absolutely! In fact, Danny Buys Houses is one of the best known and trusted cash house buyers in San Antonio.
There are others of course and you'll need to do your due diligence to ensure the offer being made is truly a cash offer.
If the contract being used to buy your house states that it is 'subject to lender approval', you are likely not dealing with a cash home buyer.
You could even ask to see a bank statement showing they have the funds to purchase the house.
The last thing you want is to get your house under contract, move all of your belongings, change your mailing address with the USPS, turn off utilities, and everything else that goes along with moving to then find out your buyer was unable to come up with the money.
House Buyers Near Me
You can find cash house buyers practically everywhere these days. If you're not in San Antonio (San Antonio sellers: you can get a fast cash offer for your house from us) you can simply do a Google search for 'house buyers near me'.
Be very sure to check reviews for any companies you are considering getting an offer from. Reputations get around and you should be able to separate the good ones from the bad ones by checking Google reviews, Facebook reviews, and Better Business Bureau reviews for cash house buying companies.
Conclusion
House buyers are a great way to sell a house fast in San Antonio. Cash buyers make it as hassle-free and fast as possible.
Be sure to vet the companies you are considering getting an offer from so that you don't have a major headache weeks after signing a contract.
If you have any questions at all about the process or a particular situation you are facing feel free to give us a call now!