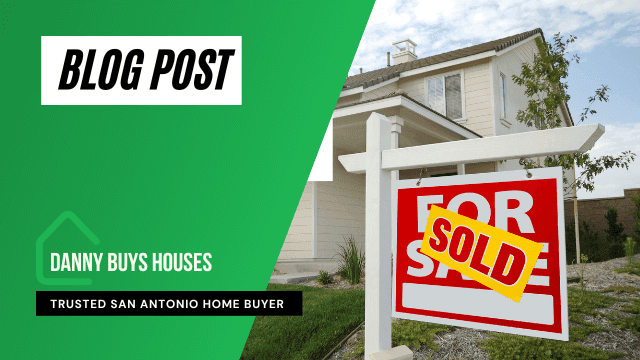 I Buy Houses San Antonio
By Danny Johnson | Published 1/4/2017, 3:42:35 PM
Who buys houses in San Antonio. I buy houses in San Antonio, TX. Find out my cash offer is for your house.
🗂 Table of Contents
My name is Danny and I buy houses for cash. It's a perfect option for people looking to sell their house fast, with no extra paperwork, inspections or repair work needed. I know it looks a bit confusing and you probably have a lot of questions about what I do. I'll try to explain it in this article. To put it in simple words - I buy houses in San Antonio, Texas. But the truth is, there is a lot more to it. I'd like to explain to you my mission and values that come with my service and why I think you should sell your house to a cash buyer. You might be suspicious about the whole process and frankly, so was I until I did the real estate research and realized that selling a house really doesn't have to be as difficult as it seems. Now let's get started!
So what's the mission of Danny Buys Houses?
I buy houses from people who aren't really sure about the entire process, from those who want to sell their house fast, and for anyone who doesn't want to deal with mountains of paperwork. San Antonio is full of families and veterans and selling a house fast is one of the most wanted services when a person decides to relocate. For that reason alone, I've started my company, Danny Buys Houses. Not only do I buy houses, I provide people with as much information as I can on the house buying process. When it comes to real estate, people shouldn't be taken advantage of, especially since we're talking about large amounts of money. I want to make sure people get informed about every aspect of real estate.
I know my way around real estate
A good real estate agent should hold informative answers to every question asked by their client. The truth is, I don't want to only help my current clients. I want to extend that help to everyone, even if you don't consider selling a house at the moment. Browsing through my site, you'll find articles that'll answer questions about selling during probate, selling during a divorce, dealing with tenants that don't want to leave, and even other topics on being a landlord. I want to make sure you have the best information on what is happening in real estate in San Antonio.
Is selling to a cash buyer a scam?
Truth be told, it could be. I'm sure you've seen plenty of "i buy houses" signs or flyers around the city - but are you sure they're always telling the truth? Many other so called buyers take advantage of innocent customers and you should always be on a lookout for those who don't have the credibility to back up their claims. To avoid scammers, always do your research - along with testimonials, every cash buyer should have a phone number - call them up and ask as many questions as possible. It's the best way to see who's lying about their services and who's willing to truly help you out to sell your home fast. You can also Google "I buy houses reviews" and include your area to check if there have been any reports made about possible scammers.
What are the pros of cash buyers?
The biggest pros of cash buyers is to be able to sell your house fast. We buy houses under any condition which means you won't need to worry about any repairs and other work that needs to be done - we understand these things take time but we're here to make your life easier, not more difficult. You avoid handling all paperwork and worrying about tiresome business with your bank. If you're relocating and need to make a purchase on another house quickly, selling your house to a cash buyer is a perfect option. People also use cash buyers when they run into financial trouble and are in need of quick money and landlords sometimes deal with bad tenants that won't leave by selling their house this way. There are endless of pros why selling to a cash buyer could be the right thing for you.
What are the risks of selling to a cash buyer?
The general risk is the uncertainty. Many of my customers weren't sure if this was the right decision until they called my phone and really asked all questions they possibly could. Selling a house fast is a popular option, but of course, many scammers try to take advantage of that. Like I mentioned above, always make sure you give your cash buyer a call before you fill out any forms.
"I Buy Houses!" Where can you find me?
You don't have to look too far - I buy houses for cash and I am here to help. My clients benefit from having a quick sale - you can receive money within a couple of days if you need to. My team caters to your needs - tell us your situation and we'll adapt to make sure your house is sold. Once you call us, we'll give you an offer on your house within 48 hours. Your house could easily be sold in a week if you wanted it to be! On top of that, we're here to answer all your questions - we understand selling a house is a lot more complicated than just putting up an ad and receiving your money. Challenge us and ask any question possible - we'll get you all the answers you need. And there it is. I'm a San Antonio based cash buyer who's ready to help you sell your house fast. Ready to get in touch? Call us - one of my team members will help you make the right decision. Even if you don't want to sell your house yet or have decided to go with another buyer, feel free to give us a call, share your doubts, feedback or just stop by for a good old real estate chat. We'll be happy to help in any way we can!