SELL MY HOUSE FAST IN Garden Ridge, TX
Get A
Fair

,

No-Obligation

Cash Offer For Your House Today!

We buy houses cash in any condition, any area, any situation. Sell your house fast for cash in Garden Ridge, TX today - no fees, no commissions, no agents, no repairs, no cleanout, no hassles!

Fill out the form to find out what we can offer for your house!
AS SEEN ON
Trusted Cash Home Buyers in Garden Ridge Since 2005
We Buy Houses in Garden Ridge, TX Fast and Easy
If you are here because you want someone to "buy my house fast" or to "sell my house fast for cash", you are in the right place!
We believe selling your house in Garden Ridge should be as stress-free as possible. Read on to see how we make selling that house possible so you can get on with your life.
Did you know you can get a cash offer for your house in Garden Ridge, TX, today?
I had a feeling you might be interested.
We're in the business of buying houses for cash in Garden Ridge, TX.
Imagine the ease of selling your property without the need for repairs.
Imagine waving goodbye to tenant-related headaches for good.
Imagine receiving cash for that inherited house, without even having to clean it up.
Picture sidestepping the looming possibility of foreclosure.
Consider shedding the weight of mounting repair expenses and increasing property tax obligations.
Danny Buys Houses is prepared to extend a fair cash offer to you today.
Why not give us a call now or fill out our fast cash offer form? This could be your chance to find out how much we're willing to pay for your house in Garden Ridge, TX.
We buy houses
cash
Avoid costly repairs and clean up
No appraisals or inspections
No bank/lender approval needed
Closing as soon as you like
We take care of
everything
Local title company handles the paperwork
Sell that Garden Ridge house as-is
Avoid showings for dozens of strangers
Show up to closing, sign, and get paid!
👍 This is a house Danny Buys Houses bought as-is recently for all cash. Sellers were able to move out of state and left everything they didn't want. 🙌🏽
How to Sell My House Fast For Cash 💵
Find out how it works when you sell that Garden Ridge house to Danny Buys Houses.
Fill Out the Fast Offer Form
Learn more by visiting sell my house fast
We Schedule To See the House
What to expect during the appointment: how it works
Get a No-Pressure Cash Offer
Learn more about the offers we make here cash offers for houses
"I was finally able to sell my house for cash. I appreciated how Danny didn't put any pressure on getting the sale. Danny helped with the process and allowed me the time I needed. He was very flexible and made himself available to assist with any questions I had. I would recommend Danny to anyone that wanted a knowledgeable buyer. He was excellent to work with. Thanks Danny."
Linda Hommerbocker - San Antonio, TX
We Believe Selling a House Should be Easy, Fast, and Hassle-Free
That is why we buy houses for cash in Garden Ridge!
House Condition
Sell as-is:
clean nothing

!

Skip hiring contractors and paying thousands to repair and clean your house. We buy houses as-is, regardless of condition.
Closing Date
We close fast:
move when you want

!

We close when it's convenient for you. If needed, we can close within 5 days.
House Value
No-obligation,
fair cash offers

!

We calculate offers based on current condition and market values. There is absolutely no obligation to accept our offer and there is NO cost to you.
Respect
You will be treated with
RESPECT

!

We understand that bad situations happen to good people. We're here to help.
🥇 This is how we have become one of the top companies that buy houses in Garden Ridge. 🥇 "Mr. Danny Johnson was very professional. I would be happy to use his services again. He was very honest and fair. I was able to sell my house fast and could not be happier."
Daniel Campos - San Antonio, TX
Sell Your House Fast and Move On!
We offer a better, stress-free solution to selling your Garden Ridge house.
I'm Danny Johnson. 👋🏼 At Danny Buys Houses, we believe homeowners in Garden Ridge should have an option to sell a house quickly, regardless of the condition or situation...without judgement. This is why we pay cash for houses.
Learn more about how we operate to make the sale of your house as fast and painless as possible by visiting 👉🏼 Our Company page. You will find what makes us different from all of the companies that buy houses in Garden Ridge.
If you're ready to get started and want to get a cash offer within the next 24 hours, fill out the form below!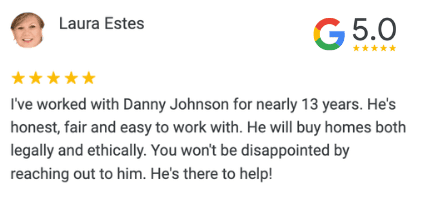 Common Questions
🙋🏽 Who sells their house to Danny Buys Houses?

Over the years we've helped hundreds of Garden Ridge sellers move on with their life by providing them with a quick home sale. You can read testimonials on our Danny Buys Houses Reviews page. You will see why so many people have gone with us after contacting other companies that buy houses.

The situations that make someone say, "I need to sell my house fast" or "I want to sell my house for cash" vary considerably.

The most common reason to sell to Danny Buys Houses has been a desire to sell a house without needing to make repairs or even clean the house. These sellers want to avoid having to deal with contractors, list with agents and pay thousands in commissions, have to allow dozens of strangers into the house to see it. To put it simply, they just want to avoid all the typical hassle that comes with selling a house in Garden Ridge.

🙋🏽‍♂️ Do you buy houses that don't need repairs?

Absolulely! We've bought houses in Garden Ridge that were only a couple years old and near new condition. Typically, though we buy houses that do need some repairs and updating. That is what we specialize in.

🙋🏼‍♀️ I want to sell my house for cash. I've never sold a house. Can you help?

Definitely! Selling a house isn't something people typically do more than a couple times in a lifetime. This is why we handle everything. We will coordinate everything with a reputable, local title company to ensure all the paperwork is done properly and according to local laws. You won't have to worry about anything!

This is exacty how Danny Buys Houses has become the best company that buys houses cash in Garden Ridge.

🙋🏾 If you buy my house, how long does it take to close and get paid?

We can have everything processed within a week if necessary. The date for closing is really up to you. Sometimes sellers will want time to move out and want a month or more. Sometimes situations require a super fast closing. We can accomodate whatever you need. Close when you want!

➡️ How can I sell my house in Garden Ridge, TX without a Realtor?

It is very common for people to want to sell their house without a Realtor. You can easily list your own house on Zillow.com or FSBO.com. Our favorite option is to sell the house to a cash home buyer. You can have the house sold as is and closed within a week with this option.

➡️ What documents do I need to sell my house in Texas?

When selling your house in Texas, the title company usually handles getting all of the necessary documents from the county. In most situations, you will only need to provide a valid form of identification at closing. If your buyer requests a survey, you will need to provide that as well.

➡️ How can I sell my house fast for cash in Garden Ridge, TX?

The steps to selling your house fast for cash are:

1. Find several cash home buyers in Garden Ridge
2. Request a cash offer from each of the house buying companies (you should not have to pay any fees or commit to signing anything to get a cash offer)
3. Check reviews and choose the offer you like best
4. Sign a contract with the cash buyer
5. Close and have the title company wire your proceeds to your account

➡️ How does it work to sell my house to a cash buyer in Garden Ridge, TX?

When selling to a cash buyer in Garden Ridge, TX, the process is simple.

1. You request a cash offer from the cash home buyer
2. They gather some information about the house and schedule to see it
3. They see the house and calculate how much they can offer you
4. You are presented with a written offer to buy the house
5. If you accept the offer, you simply sign the contract
6. The cash home buyer takes the contract and earnest money to a local title company
7. The title company prepares the paperwork and handles the closing
8. You get paid!
"I need to sell my house fast!"
Watch this review of Danny Buys Houses to see how we helped Bert Sisson sell a house fast in Garden Ridge without hassle.
How Does It Compare To Sell My House For Cash vs Selling with a Realtor in Garden Ridge?
| Cost/Hassle | Realtor | Danny Buys Houses |
| --- | --- | --- |
| Commissions | 6% | None |
| Closing Costs | 3% | None |
| Carrying Costs | It can take up to 6 months to sell and you are responsible for your loan payments, property taxes, utilities, etc during that time. | We close fast so these costs are very minimal. |
| Repairs | Realtors want to sell houses in good condition. You'll likely need to make repairs before selling or if your buyer's lender requires them. | We specialize in fixing up houses. Sell exacty as-is, regardless of condition. |
| Cleaning | Selling through a Realtor to someone who will move in will require the house be fixed up and cleaned thoroughly. | Leave it the way it is! Don't even worry about cleaning anything. We will even take care of anything you want to leave behind! |
| Professional Appraisal | Usually required. | None |
| Professional Inspection | Usually required. | None |
| Survey | Usually required. | None |
| Closing Date | 45 days | We buy houses for cash so you can close as fast as you want! |
Get your cash offer online quote!
Garden Ridge's Trusted Home Buyer

"Thank you very much for a pleasant and courteous experience. I would recommend your company to friends and family. This has been a big load off my husband and I. Once again, thank you very much for everything. You helped me sell my house fast!"

Adriana Carrizales | San Antonio, TX

"We were looking for who buys houses in San Antonio. We are glad we found this cash house buyer! It was a pleasure to work with Danny. He was kind and very professional."

Rebecca Phinney | San Antonio, TX

"This company is outstanding! Highly recommend them if you are looking for a cash house buyer. This is the best company that buys houses cash in San Antonio!"

Mike Cowper | Detroit, MI

"Danny and everyone at We Buy Houses In San Antonio are amazing people and very knowledgable and have been great to work with. I would recommend their services to anyone! They pay cash for homes and close fast!"

Justin Williams | San Clemente, CA

"Working with Danny during this transaction was a breeze. Working with him from the beginning of the transaction until the closing went very smoothly, there were no hiccups or surprises. It was a pleasure doing business with Danny."

James Woodward | San Antonio, TX

"They were very helpful, patient and made the experience very nice."

Deborah Jackson | San Antonio, TX

"He was very helpful in every way. I would recommend him and his company to anyone selling their house. It has been a very pleasant experience."

John Rohm | San Antonio, TX

"Surprisingly straightforward and easy experience. Had to sell quick and they helped me get exactly asked for to get the loan paid off. Very happy with the experience and communication with the team."

Kent P | San Antonio, TX

"If it had not been for Mr Grayson (acquisitions manager for DannyBuysHouses), I probably would have looked elsewhere for selling my property. He was courteous and polite, explaining in great detail all the questions I had."

Charles Cappelli | San Antonio, TX

"Danny Johnson is a consummate professional who loves God and his work. I felt at ease talking to him and his associate over the phone. In person Danny is even more pleasant - his smile and demeanor is above reproach."

Dawn Washington | San Antonio, TX

"I was looking for someone to buy my house. With the strain of selling the house, I found someone I could trust. Several people saw my house and Danny offered me more money, and without any hassles. The closing went off without a hitch."

Ann Lorbieski | San Antonio, TX
Danny Buys Houses in Garden Ridge
Providing a way for people to sell a house fast in Garden Ridge, TX for cash since 2005.
Rated 4.9/5 based on 68 customer reviews.
Most of these reviews are from people that we provided our "sell your home services" to where we paid cash for homes.
Read dozens more customer reviews on our Danny Buys Houses reviews page!
Real Estate Market Information For Garden Ridge, TX
Garden Ridge, Texas, an idyllic town nestled amidst the scenic beauty of the Texas Hill Country, offers a serene oasis with a thriving real estate market and a tranquil lifestyle. With its abundant green spaces, rolling hills, and a strong sense of community, Garden Ridge has become an enticing place to relocate to.
Garden Ridge's Natural Beauty and Serene Environment

Garden Ridge is renowned for its natural beauty, featuring lush landscapes, towering oak trees, and stunning hilltop views. The town takes pride in preserving its green spaces, allowing residents to immerse themselves in the tranquility and serenity of their surroundings. Nature lovers and outdoor enthusiasts can enjoy activities such as hiking, biking, and birdwatching in the numerous parks and nature reserves that dot the area. Garden Ridge is also home to Natural Bridge Caverns, which boasts several distinct cave systems.
Garden Ridge, TX Real Estate Market in 2023
Average Home Price: As of June 2023, the median listing home price in Garden Ridge is approximately $715,000, according to Realtor.com. The town offers a range of housing options, from spacious single-family homes to elegant estates, allowing residents to find their dream home in a serene setting.
Market Growth and Stability: Garden Ridge has experienced consistent market growth and stability over the years. Its close proximity to major metropolitan areas, such as San Antonio and New Braunfels, coupled with its natural beauty, contributes to the demand for properties in the area. Home values have shown appreciation, making Garden Ridge an attractive location for long-term real estate investments.
Large Lot Sizes and Privacy: Garden Ridge is known for its spacious lots and generous land sizes, providing residents with privacy and room to breathe. The larger lot sizes allow for ample green spaces, creating a peaceful and secluded atmosphere that complements the town's tranquil lifestyle. The city actually has a restriction to prevent lots smaller than 3/4 acre. How cool is that?!
Tranquil Lifestyle and Community Spirit

Garden Ridge offers a tranquil lifestyle with a strong sense of community. The town fosters a close-knit environment through various community events, such as farmers' markets, holiday celebrations, and neighborhood gatherings. Residents enjoy a slower pace of life, while still benefiting from convenient access to nearby amenities, including shopping centers, restaurants, and recreational activities.