SELL MY HOUSE FAST IN Converse, TX
Get A
Fair

,

No-Obligation

Cash Offer For Your House Today!

We buy houses cash in any condition, any area, any situation. Sell your house fast for cash in Converse, TX today - no fees, no commissions, no agents, no repairs, no cleanout, no hassles!

Fill out the form to find out what we can offer for your house!
AS SEEN ON
Trusted Cash Home Buyers in Converse Since 2005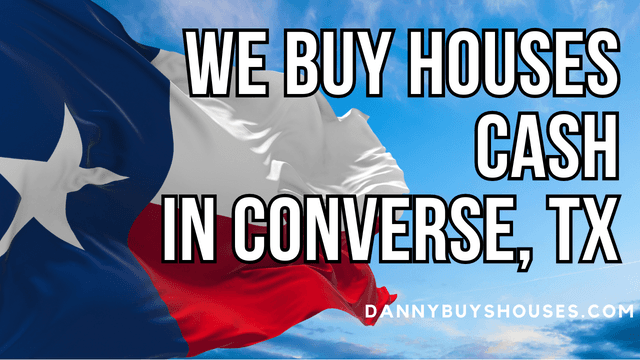 We Buy Houses in Converse, TX Fast and Easy
If you are here because you want someone to "buy my house fast" or to "sell my house fast for cash", you are in the right place!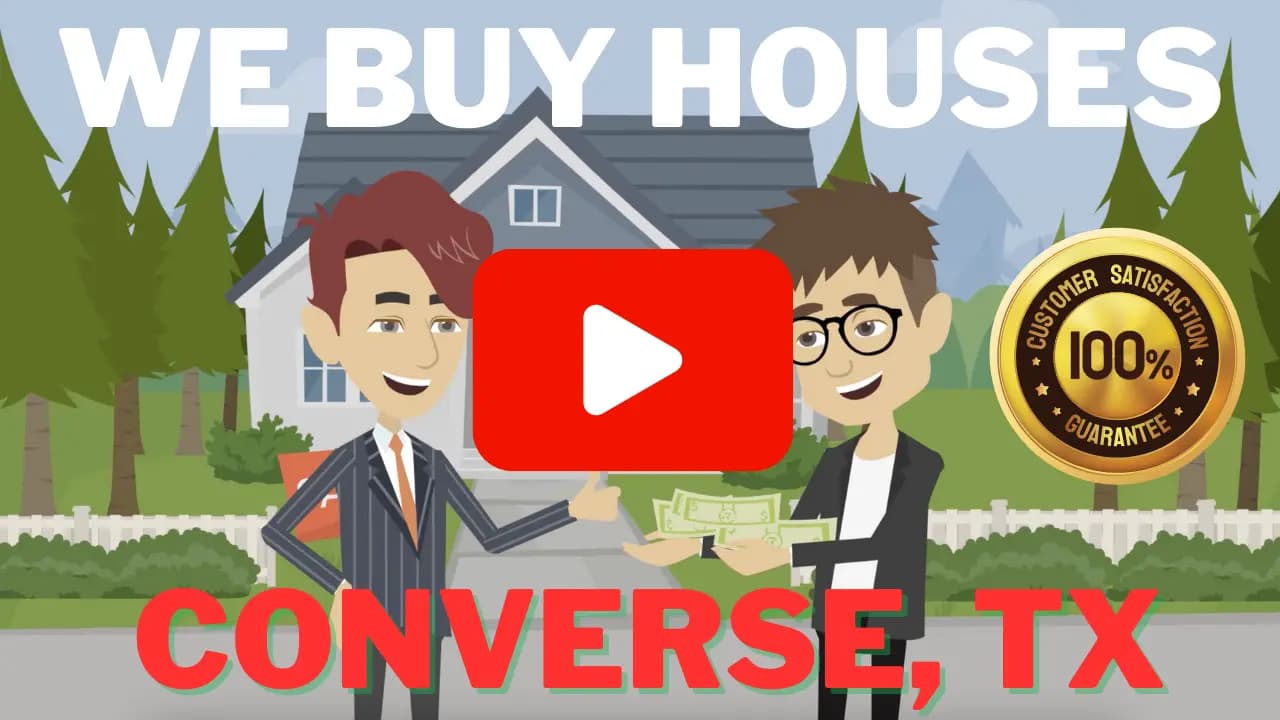 We believe selling your house in Converse should be as stress-free as possible. Read on to see how we make selling that house possible so you can get on with your life.
You can sell your house for cash in Converse, TX!
If you're looking to sell your house fast, I've got some great news for you. I'm Danny Johnson, and I pay cash for houses just like yours! No need to deal with the hassle of traditional real estate agents or lengthy waiting periods. I understand that life can throw unexpected curveballs your way, and sometimes you need to sell your house quickly for various reasons.
Whether you're facing costly repairs, foreclosure, a divorce, or simply want to cash out on your property, I've got you covered. Forget about staging your home or dealing with picky buyers. I make the process simple, efficient, and stress-free. With my experience in real estate investing and a deep understanding of the Converse market, I'm confident that we can find a fair cash offer that works for you.
Don't worry about the condition of your property – I buy houses in any condition, from fixer-uppers to move-in ready homes. Plus, you won't have to worry about commissions, hidden fees, or long closing processes. I aim to close deals fast, often within a week!
So, if you're ready to sell your house fast in Converse, TX, reach out to me today. Let's get the ball rolling and make this process as smooth as possible for you. You can count on a hassle-free experience and a fair cash offer. Contact me at DannyBuysHouses.com, and let's take the first step toward your stress-free home sale!
We buy houses
cash
Avoid costly repairs and clean up
No appraisals or inspections
No bank/lender approval needed
Closing as soon as you like
We take care of
everything
Local title company handles the paperwork
Sell that Converse house as-is
Avoid showings for dozens of strangers
Show up to closing, sign, and get paid!
👍 This is a house Danny Buys Houses bought as-is recently for all cash. Sellers were able to move out of state and left everything they didn't want. 🙌🏽
How to Sell My House Fast For Cash 💵
Find out how it works when you sell that Converse house to Danny Buys Houses.
Fill Out the Fast Offer Form
Learn more by visiting sell my house fast
We Schedule To See the House
What to expect during the appointment: how it works
Get a No-Pressure Cash Offer
Learn more about the offers we make here cash offers for houses
"I was finally able to sell my house for cash. I appreciated how Danny didn't put any pressure on getting the sale. Danny helped with the process and allowed me the time I needed. He was very flexible and made himself available to assist with any questions I had. I would recommend Danny to anyone that wanted a knowledgeable buyer. He was excellent to work with. Thanks Danny."
Linda Hommerbocker - San Antonio, TX
We Believe Selling a House Should be Easy, Fast, and Hassle-Free
That is why we buy houses for cash in Converse!
House Condition
Sell as-is:
clean nothing

!

Skip hiring contractors and paying thousands to repair and clean your house. We buy houses as-is, regardless of condition.
Closing Date
We close fast:
move when you want

!

We close when it's convenient for you. If needed, we can close within 5 days.
House Value
No-obligation,
fair cash offers

!

We calculate offers based on current condition and market values. There is absolutely no obligation to accept our offer and there is NO cost to you.
Respect
You will be treated with
RESPECT

!

We understand that bad situations happen to good people. We're here to help.
🥇 This is how we have become one of the top companies that buy houses in Converse. 🥇 "Mr. Danny Johnson was very professional. I would be happy to use his services again. He was very honest and fair. I was able to sell my house fast and could not be happier."
Daniel Campos - San Antonio, TX
Sell Your House Fast and Move On!
We offer a better, stress-free solution to selling your Converse house.
I'm Danny Johnson. 👋🏼 At Danny Buys Houses, we believe homeowners in Converse should have an option to sell a house quickly, regardless of the condition or situation...without judgement. This is why we pay cash for houses.
Learn more about how we operate to make the sale of your house as fast and painless as possible by visiting 👉🏼 Our Company page. You will find what makes us different from all of the companies that buy houses in Converse.
If you're ready to get started and want to get a cash offer within the next 24 hours, fill out the form below!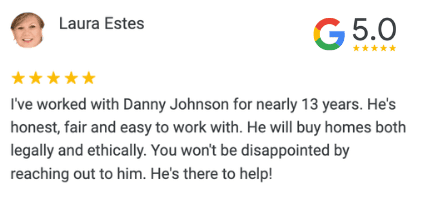 Common Questions
🙋🏽 Who sells their house to Danny Buys Houses?

Over the years we've helped hundreds of Converse sellers move on with their life by providing them with a quick home sale. You can read testimonials on our Danny Buys Houses Reviews page. You will see why so many people have gone with us after contacting other companies that buy houses.

The situations that make someone say, "I need to sell my house fast" or "I want to sell my house for cash" vary considerably.

The most common reason to sell to Danny Buys Houses has been a desire to sell a house without needing to make repairs or even clean the house. These sellers want to avoid having to deal with contractors, list with agents and pay thousands in commissions, have to allow dozens of strangers into the house to see it. To put it simply, they just want to avoid all the typical hassle that comes with selling a house in Converse.

🙋🏽‍♂️ Do you buy houses that don't need repairs?

Absolulely! We've bought houses in Converse that were only a couple years old and near new condition. Typically, though we buy houses that do need some repairs and updating. That is what we specialize in.

🙋🏼‍♀️ I want to sell my house for cash. I've never sold a house. Can you help?

Definitely! Selling a house isn't something people typically do more than a couple times in a lifetime. This is why we handle everything. We will coordinate everything with a reputable, local title company to ensure all the paperwork is done properly and according to local laws. You won't have to worry about anything!

This is exacty how Danny Buys Houses has become the best company that buys houses cash in Converse.

🙋🏾 If you buy my house, how long does it take to close and get paid?

We can have everything processed within a week if necessary. The date for closing is really up to you. Sometimes sellers will want time to move out and want a month or more. Sometimes situations require a super fast closing. We can accomodate whatever you need. Close when you want!

➡️ How can I sell my house in Converse, TX without a Realtor?

It is very common for people to want to sell their house without a Realtor. You can easily list your own house on Zillow.com or FSBO.com. Our favorite option is to sell the house to a cash home buyer. You can have the house sold as is and closed within a week with this option.

➡️ What documents do I need to sell my house in Texas?

When selling your house in Texas, the title company usually handles getting all of the necessary documents from the county. In most situations, you will only need to provide a valid form of identification at closing. If your buyer requests a survey, you will need to provide that as well.

➡️ How can I sell my house fast for cash in Converse, TX?

The steps to selling your house fast for cash are:

1. Find several cash home buyers in Converse
2. Request a cash offer from each of the house buying companies (you should not have to pay any fees or commit to signing anything to get a cash offer)
3. Check reviews and choose the offer you like best
4. Sign a contract with the cash buyer
5. Close and have the title company wire your proceeds to your account

➡️ How does it work to sell my house to a cash buyer in Converse, TX?

When selling to a cash buyer in Converse, TX, the process is simple.

1. You request a cash offer from the cash home buyer
2. They gather some information about the house and schedule to see it
3. They see the house and calculate how much they can offer you
4. You are presented with a written offer to buy the house
5. If you accept the offer, you simply sign the contract
6. The cash home buyer takes the contract and earnest money to a local title company
7. The title company prepares the paperwork and handles the closing
8. You get paid!
"I need to sell my house fast!"
Watch this review of Danny Buys Houses to see how we helped Bert Sisson sell a house fast in Converse without hassle.
How Does It Compare To Sell My House For Cash vs Selling with a Realtor in Converse?
| Cost/Hassle | Realtor | Danny Buys Houses |
| --- | --- | --- |
| Commissions | 6% | None |
| Closing Costs | 3% | None |
| Carrying Costs | It can take up to 6 months to sell and you are responsible for your loan payments, property taxes, utilities, etc during that time. | We close fast so these costs are very minimal. |
| Repairs | Realtors want to sell houses in good condition. You'll likely need to make repairs before selling or if your buyer's lender requires them. | We specialize in fixing up houses. Sell exacty as-is, regardless of condition. |
| Cleaning | Selling through a Realtor to someone who will move in will require the house be fixed up and cleaned thoroughly. | Leave it the way it is! Don't even worry about cleaning anything. We will even take care of anything you want to leave behind! |
| Professional Appraisal | Usually required. | None |
| Professional Inspection | Usually required. | None |
| Survey | Usually required. | None |
| Closing Date | 45 days | We buy houses for cash so you can close as fast as you want! |
Get your cash offer online quote!
Converse's Trusted Home Buyer

"Thank you very much for a pleasant and courteous experience. I would recommend your company to friends and family. This has been a big load off my husband and I. Once again, thank you very much for everything. You helped me sell my house fast!"

Adriana Carrizales | San Antonio, TX

"We were looking for who buys houses in San Antonio. We are glad we found this cash house buyer! It was a pleasure to work with Danny. He was kind and very professional."

Rebecca Phinney | San Antonio, TX

"This company is outstanding! Highly recommend them if you are looking for a cash house buyer. This is the best company that buys houses cash in San Antonio!"

Mike Cowper | Detroit, MI

"Danny and everyone at We Buy Houses In San Antonio are amazing people and very knowledgable and have been great to work with. I would recommend their services to anyone! They pay cash for homes and close fast!"

Justin Williams | San Clemente, CA

"Working with Danny during this transaction was a breeze. Working with him from the beginning of the transaction until the closing went very smoothly, there were no hiccups or surprises. It was a pleasure doing business with Danny."

James Woodward | San Antonio, TX

"They were very helpful, patient and made the experience very nice."

Deborah Jackson | San Antonio, TX

"He was very helpful in every way. I would recommend him and his company to anyone selling their house. It has been a very pleasant experience."

John Rohm | San Antonio, TX

"Surprisingly straightforward and easy experience. Had to sell quick and they helped me get exactly asked for to get the loan paid off. Very happy with the experience and communication with the team."

Kent P | San Antonio, TX

"If it had not been for Mr Grayson (acquisitions manager for DannyBuysHouses), I probably would have looked elsewhere for selling my property. He was courteous and polite, explaining in great detail all the questions I had."

Charles Cappelli | San Antonio, TX

"Danny Johnson is a consummate professional who loves God and his work. I felt at ease talking to him and his associate over the phone. In person Danny is even more pleasant - his smile and demeanor is above reproach."

Dawn Washington | San Antonio, TX

"I was looking for someone to buy my house. With the strain of selling the house, I found someone I could trust. Several people saw my house and Danny offered me more money, and without any hassles. The closing went off without a hitch."

Ann Lorbieski | San Antonio, TX
Danny Buys Houses in Converse
Providing a way for people to sell a house fast in Converse, TX for cash since 2005.
Rated 4.9/5 based on 68 customer reviews.
Most of these reviews are from people that we provided our "sell your home services" to where we paid cash for homes.
Read dozens more customer reviews on our Danny Buys Houses reviews page!
Real Estate Market Information For Converse, TX
Converse, Texas, a vibrant city located in Bexar County, offers an attractive real estate market for homebuyers and investors.
With its strategic location, affordable housing, and investment potential, Converse has become a place where people like to live and own rental property.
Converse, TX Affordable Housing Options

One of the key advantages of the Converse real estate market is its affordability. The city offers a range of housing options that cater to various budgets.
Whether you're looking for a single-family home, a townhouse, or a condominium, Converse provides affordable options compared to neighboring areas in Bexar County.
According to Zillow, in June of 2023, the average home price in Converse was approximately $266,258. This makes it an appealing choice for first-time homebuyers and families looking to settle in a growing community.
Converse, TX Market Trends and Growth

Converse has experienced steady growth in recent years, making it an ideal location for real estate investment.
The city's proximity to major employment centers, including San Antonio and Randolph Air Force Base, has contributed to its desirability.
As the population continues to grow, the demand for housing in Converse remains strong. Investors can find opportunities in both residential and commercial properties, capitalizing on the city's growth.
Converse, TX Real Estate Market

According to Realtor.com, the median listing home price in Converse, TX was $289.9K in June 2023, trending down -3.4% year-over-year. The median listing home price per square foot was $159. The median home sold price was $276.9K.
Days on Market
On average, homes in Converse, TX sell after 42 days on the market. The trend for median days on market in Converse, TX has gone down since last month (June 2023), and slightly up since last year.