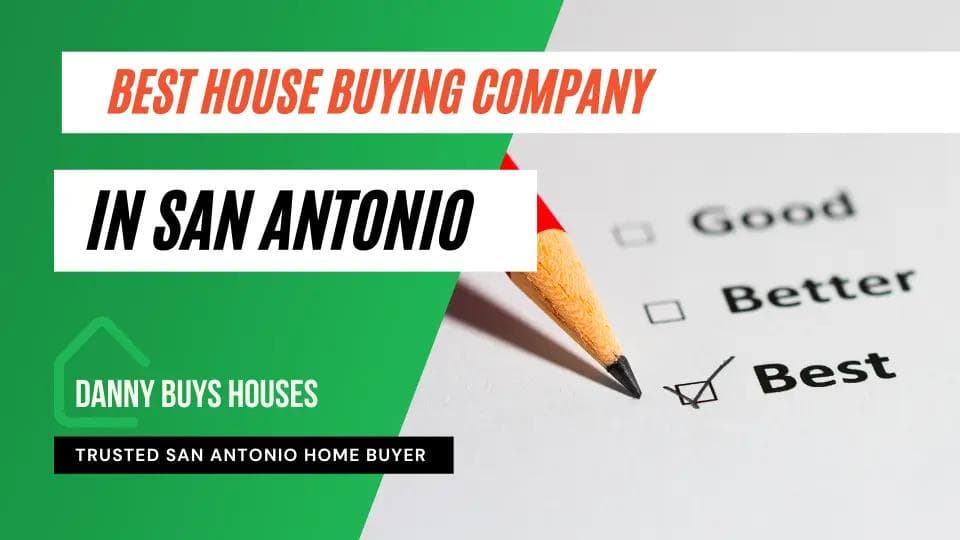 Best San Antonio House Buying Company in 2024
By Danny Johnson
Find out what makes Danny Buys Houses the best house buying company in San Antonio in 2024. And it is not just the number of years in business.
🗂 Table of Contents
Looking for the best house buying company in San Antonio, TX? We believe you have found it in Danny Buys Houses.
In this article you're going to learn:
If house buying companies make fair offers
Whether house buying companies in San Antonio are legit
What makes Danny Buys Houses the best house buying company
Why Danny Buys Houses in San Antonio
Who sells their house to Danny Buys Houses
Do house buying companies make fair offers in 2024?
When considering whether to sell your house to a house buying company, you should first consider whether these companies make fair offers.
House buying companies are in business to make a profit.
There are a couple ways they can make a profit:
Buy at a discount and sell for more
Fix up the house and sell for more
Add square footage to the house and sell for more
The vast majority of house buying companies do a combination of options 1 and 2.
What is "fair"?
Now that you know how they make money investing in buying houses, you can see where what is fair to them is buying at a discount because of the need to make repairs to the house.
If you've ever had to work with contractors to fix up a house, you know it is not always a walk in the park.
What also needs to be taken into consideration are the closing costs involved in buying and then again when selling the house. This along with Realtor commissions on the resale add up to hefty amount.
Some house buying companies offer more
There are some house buying companies that offer more than others.
These are typically house buyers that plan to have the repairs done by their own contractors and run a tight ship.
The house buying companies that tend to offer less are the ones that we call "wholesalers".
Wholesalers put a house under contract with the intention of selling that contract to another house buying company that will fix up the house and sell it.
In a wholesale scenario, the house buyer that is buying the contract from the wholesaler also needs to make a profit. This means you now have a middleman driving what you make on your house down.
The Texas Real Estate Commission conducted a survey in 2022 that captured some negative sentiment from house sellers:
"Those who reported having a negative experience tended to express feeling they were misled about the nature of the transaction or confused about whether the wholesaler was the end buyer or a real estate agent. A few mentioned that the sale was never completed since the wholesaler did not find a third party to purchase the interest in the property."
Are house buying companies in San Antonio legit?
Most house buying companies in San Antonio are legitimate. The best way to know for sure if you are dealing with a trustworthy house buying company is to check the Better Business Bureau.
Companies that operate professionally should have reviews and testimonials from happy customers as well.
According to a 2023 survey done by Truelist.com, around 5-10% of global digital buyers write reviews.
Pro tip: One way to ensure you are dealing with a legit house buying company is to ask them which title company they use and who they close with there. This way you can verify with the closer that the company does in fact follow through and close when they say they will.
The Best House Buying Company: Danny Buys Houses
What makes Danny Buys Houses the best, is what makes us different.
When you search for a house buying company or local house buyer in San Antonio, you tend to see the same messages from each.
How House Buying Companies Are Similar
These are the ways in which most house buying companies are the same:
How Danny Buys Houses is Different
At Danny Buys Houses we do things a little different. These are the reasons hundreds of San Antonio houses have been sold to us.
We close 100% of our purchases
You can have the peace of mind knowing we always close.
The last thing you want is to have signed a contract with a company, made plans based on being done with the house and the anticipation of having the funds from the sale, only to have the deal fall apart.
What if you moved out the house already and then found out the buyer was not able to do the deal?
Not good! No bueno!
We have been in business over 2 decades
You will be working with a very experienced company that has been buying houses for investment purposes since 2003.
We survived the real estate crash of 2008 and have seen it all.
Regardless of your situation, we have likely helped another San Antonio homeowner just like you. This is not to brag but rather to assure you we have the experience to help you move on.
We treat you with respect
Bad things happen to good people all the time.
You will be treated with respect because we NEVER pass judgment on anybody for situations they are facing.
In fact, we have also ended up in bad situations with houses in the past and know how overwhelming that feels.
You will be treated with the respect you deserve when you work with us.
We are not used-car-salesmen
Who likes high-pressure sales people? I do not know anybody that does.
We want to buy your house, but only if it makes sense for you and us. If we do not both agree the deal would be in both of our best interest, we simply will not do it.
You can be confident we won't ever pressure you to do something you are not 100% ready to do.
Why Danny Buys Houses
Discover why we do what we do! It is not every day you talk with people that buy houses for a living. Here is why we buy houses in San Antonio.
Investments for a better life
To provide a better life for my family, we started investing in real estate.
Making good profits by fixing up and selling or renting houses is great, but the real drive was that of time freedom.
Growing up, my father had to work very hard to feed our family of 6. Unfortunately, he could not be there as much as he wanted to.
Working a full-time job as a software engineer would not allow me the freedom to be able to do things with my kids during the day.
It is such a blessing to be able to go on field trips with my kids and to know that I can always be there for everything.
Help people get their life back
There is also a lot of fulfillment that comes from helping people out of situations quickly.
There have been several clients that have told me something along the lines of, "You are an angel sent from heaven. Thank you so much!"
Enjoy giving new life to houses
Some of our favorite houses we have worked on were the ones that needed the most repairs.
There is something special about seeing a house go from barely or even not livable to a show place ready for a new family. This pride of ownership is very rewarding.
Not only does this remodel make the neighbors happy, it helps to increase the values of the houses in the entire area.
Who Sells Their House to Danny Buys Houses
Over the years, we have seen almost every conceivable situation involving a house in San Antonio.
The following are the most common situations we have helped people out of by buying their house fast for cash.
House needs too many repairs
This is the most common reason people have contacted us to buy their house.
If your house needs a lot of repairs, you likely face these issues:
The need to have a lot of cash to pay for those repairs
The need to have a lot of time to either make the repairs or hire someone to
The need to have certain parts of the house brought up to current code
The need to insure the house and protect against vandalism
According to NeighborhoodScout.com's crime report, your chances of becoming a property crime victim in San Antonio is 1 in 24!
These issues cause a lot of stress for most people. Heck, working with contractors can be a frustrating and expensive experience.
Inherited a house
Many people end up inheriting a house and are conflicted with what to do with it.
There is usually a lot of emotional attachment to the house one one hand. On the other hand, what are they supposed to do with the house?
Many attempt to keep the house but find managing tenants to be something they would rather not do. In addition, upkeep, maintenance, and property taxes add up very quickly.
Many times, the inherited house has not been updated in the recent past. We love these houses because they give us an opportunity to bring the house up to date!
Tired landlord
Owning rental property is something most people think will be exciting.
Rarely does it ever end up that way.
All it takes is one tenant to stop making payments to you, requiring a costly and timely eviction, only to discover the house will need thousands of dollars in repairs to be rented again.
Not to mention the calls at night because the toilet has broken. Not fun!
We buy houses with or without tenants so you do not have to deal with them any longer.
Need cash
Sometimes people need money to start a new business or make an investment. Selling the San Antonio house for cash makes sense because it allows them to put their money into something else quickly.
Relocating
They call San Antonio "Military City" for a reason. We have a lot of military here with bases like Randolph Air Force Base.
People get deployed often and many times this involves having a house needing to be sold quickly.
You might also be moving for a job want to quickly sell your house so that you can use the money to find something in your new city.
Whatever the case is, we can help you get cash for you house very fast.
Facing Foreclosure
Foreclosure is unpleasant no matter how you slice it. Nobody wants to lose their home but it is a reality that people do.
The real shame is when someone loses their house to foreclosure and loses the equity they works so hard for as well.
It does not have to be this way! You can stop foreclosure by selling the house.
You can get paid for much of that equity by selling the house before foreclosure.
Sometimes we have to buy the house within a couple days to beat the foreclosure auction.
Divorce
Divorce is painful enough on its own. But to add the stress of trying to split up assets can make the whole situation more than unbearable.
The family house can be a big issue for many. Usually there is money owed and a single parent is just not able to cover the payments on their own.
Refinancing the mortgage into a single person's name can be next to impossible.
If the mortgage isn't refinanced to get one person off the loan, that person will have issues getting other loans because they are still responsible for the old mortgage.
Not to mention what happens when the single parent doesn't make payments. That leads to destroyed credit that lasts for many years.
Rather than face these problems, you can sell the house during divorce.
Conclusion: Why Sell Your House To Danny Buys Houses
Regardless of the situation, Danny Buys Houses is here to help. You can sell your house fast without hassle because we pay cash.
We have become the best house buying company in San Antonio for a reason. We treat people with respect and truly want to help you move on from the house problem you are facing.
Thank you for taking the time to learn more about our company. You can quickly find out how much we can pay for your house by filling out the form below or giving us a call.
If you have any questions and prefer to not call, you can contact us here.